xXx-Performance Updates Lamborghini Gallardo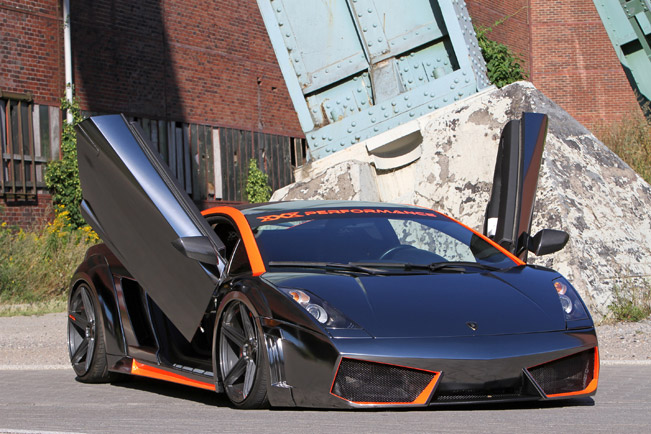 Lamborghini Gallardo is one of the most famous sportscars which almost everybody has dreamt driving due to its speed, looks and aggressive road-stance. Surprisingly, the Lamborghini is powered by V10 engine and not by a V12 one and has no gull-wing doors.
The tuning specialists at xXx-Performance took a 2005 Gallardo and reconstructed it in a complex manner. They have added traditional LSD gull-wing doors and done some optical tuning. The latter extends the width of the body.
Also new is the front apron in LP560 design as well as the rear apron and the massive side enlargements. In fact, xXx-Performance endowed the rear with original parts made of real carbon from. We are speaking here about the rear flap, rear wing or also the side view mirror.
The exterior of the beast now sports a more glaring color. Thanks to versatile foil wrapping, the external shell is now in black chrome with the shafts of the side skirt, the interior edges of the front air ducts and the roof edge gleaming in neon orange.
And if one thinks that to give a Gallardo air suspension is impossible, then they surely should be disappointed. For this purpose, the tuners have used G-ride air suspension in combination with the specially adapted and two-fold hardness adjustable KW damping. The system has an electronic level regulation with integrated self-regenerating air-drying.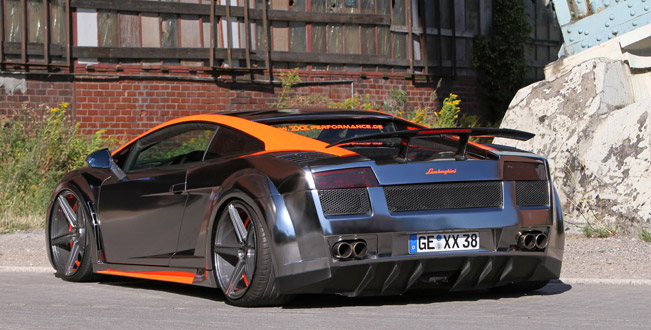 To round-out the exterior credentials of this tuned sportscar, the xXx-Performance modifiers has given it new set of shoes: exclusive mbDesign KV1 Deep Concave rims in the wheel houses in the dimension 9x20 inches with 235/30R20 tires in front and 12x20 inches with 305/25R20 Hankook S1 Evo tires in the rear. The rims were endowed with black chrome finish.
But this is not all that has been done here. The V10 here has been slightly reworked and the unit now generates over 560 horsepower (442 kW). This was achieved via special carbon air-boxes of BMC and the optimization of the engine software.
Next to the engine upgrade the tuning company added sports exhaust system that is capable of being controlled through Bluetooth. Optionally xXx Performance offers menacing biturbo conversions for the Lamborghini V10 in three power stages from 850 to 1.200 hp.
At last, the interior of the Gallardo was also improved. It now includes exclusive leather fitting with white decorative stitching. There can be seen also top-stitched diamonds and embroidered xXx-logos.
Source: xXx-Performance