1968 Chevrolet C-10 V8 10.0 liter vs Ferrari 599 GTB and Porsche 911 Turbo Rinspeed
Dragtimesinfo has released a new video with two interesting drag battles.
The first one is between a mighty 1968 Chevrolet C-10 powered by huge V8 with 10.0 liters of displacement and 850PS (625 kW) and Porsche 911 Turbo Mk.2 tuned by Rinspeed with 530PS (390 kW). The run covers 1 mile and both cars hit speeds of around 250 km/h (155 mph). Which is best? Check out in the video below.
The C-10 takes part in the second run, too, but this time against a powerful Ferrari 599 GTB powered by a naturally aspirated 6.0 liter V12 with Aluminium Head and Block. The power is 611BHP (456 kW) at 7600RPM and 607Nm (448 lb-ft) at 5600RPM. 0 to 100 km/h in 3.7 seconds, to 200 km/h in 11.0 seconds and a top speed of 330 km/h (205 mph).
Enjoy the video!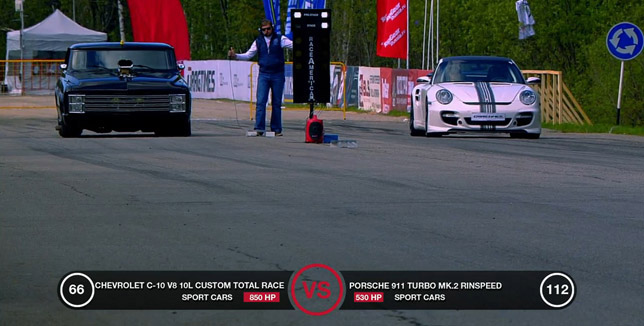 Source: Dragtimesinfo via Youtube