1971 Porsche 917LH Long Tail
The Mulsanne straight at Le Mans, which is about six kilometres in length, has always played an important role for drivers and engineers in the history of the 24 Hours race. This is where high speed has top priority and decisive seconds can be gained. This is also why, as on no other race track in the world, aerodynamics determine how cars for Le Mans are designed.
A long-tail Porsche only just missed its first Le Mans victory in 1969; it crossed the line about 100 metres behind the winner. The following year, Porsche achieved its first Le Mans win outright with a short-tail 917K (for 'kurz') and in second place came a long-tail 917LH (for 'langheck'), driven by Gerard Larrousse and Willi Kauhsen. Pre-race tests at the Paris-based SERA company ensured the long-tail version was the fastest car on the grid in 1970, with an overall drag coefficient of just below 0.3. As a consequence, the measured top speed on the Mulsanne straight was 240mph.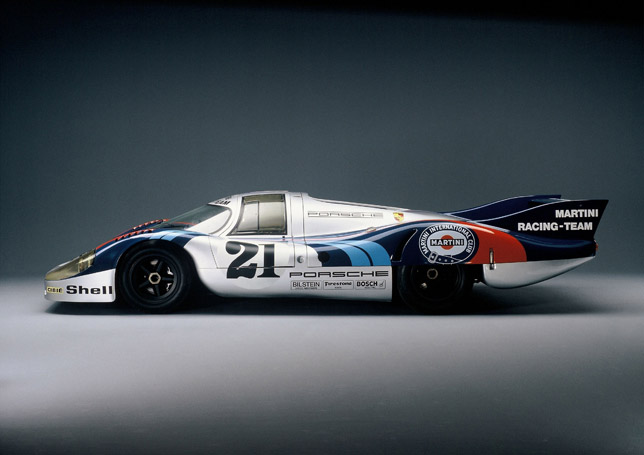 In 1971, the Porsche 917 finished its brief Le Mans career. The three long-tail examples were in the lead for many hours, amongst them the car that now resides in the Porsche Museum in Stuttgart, with the number '21'. Driven by Vic Elford/Gerard Larrousse, it qualified in second place and ran strongly before retiring. A Porsche 917 won Le Mans that year, but it was the short-tail 917K of Helmut Marko/Gijs van Lennep, which with an average speed of 138mph incidentally set a record for the fastest Le Mans race ever.
Technical Specification
Engine: Twelve-cylinder, horizontally-opposed pistons, air-cooled, two valves per cylinder, four cogwheel-driven overhead camshafts
Output: 600bhp at 8,400rpm
Displacement: 4,907cc
Dimensions: Wheelbase 2,300mm, length 4,780mm, weight 800kg
Performance: Top speed 386km/h (240mph)