1971 Porsche 917-20 'Pink Pig'
A total of 59 examples of the Porsche 917 were built, 41 as short or long-tail coupes with naturally aspirated engines of up to 5.4-litres, and 18 as CanAm or InterSeries Spyder versions with 1,400bhp turbocharged engines. One model is slightly different; the 917/20, of which only a single example was ever built.
A mixture of the long and short-tail coupes, the goal of the designers of the 917/20 was to combine the high speeds of the long-tail version with the easier handling of the short-tail example. The work of Porsche engineers and the aerodynamic specialists at the SERA company created a car that was extremely wide and had especially large overhangs at the side and rounded wheel arches. The track remained unchanged and the wheels were deeply hidden in their arches. The car's nose was almost as low and flat as that of the long-tail coupe, but the front was shorter than that of the original and the same was true of the rear.
This car participated in the initial Le Mans practice session in April 1971 without previous testing, but won the three-hour race at the end of the three day test period, driven by Willi Kauhsen/Reinhold Joest. In the actual 24 Hours race, its aerodynamics proved to be very effective, but it was forced to retire at the end of the race, following an accident while lying in fifth place.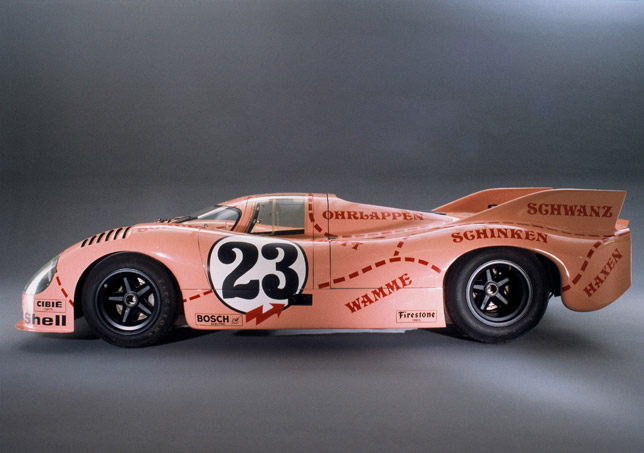 As is evident on first sight, the 917/20 didn't attract the attention of spectators and photographers solely because of its exceptional shape….its colour and shape soon earned it the regrettably appropriate epithet 'porker' – or 'Pink Pig'.
This distinctive colour scheme was the work of artists at the Porsche design studio, who came up with the pink finish and marked the individual areas butcher-style, from snout to jowl and from ham to tail.
Technical Specification
Engine: Twelve-cylinder, horizontally-opposed pistons, air-cooled, two valves per cylinder, four cogwheel-driven overhead camshafts
Output: 600bhp at 8,400rpm
Displacement: 4,907cc
Dimensions: Wheelbase 2,300mm, width 2,210mm, length 4,000mm, weight 909kg
Performance: Top speed 360km/h (224mph)