2010 Chrysler 300C - classic American vision at attractive price
Chrysler has announced the 2010 Chrysler 300C range, offering unmatched visual appearance, power and excitement for any budget. Tempting us with very attractive and affordable pricing, the new Chrysler 300C combines new restyled interior, premium technology features and unmistakable design.
For the new model year, Chrysler 300C is available in four versions, the 300C SE, SR and SRT which are fitted with an automatic gearbox and a 3.0-litre V6 diesel engine, while the SRT-8 is coupled with a mighty 6.1-litre V8 HEMI® petrol engine.
2010 Chrysler 300C SE is a new entry-level diesel model that offers great combination of maximum fuel economy with the panache of the Chrysler 300C, the price starts at £23,995 on the road. The standart equipment includes: leather trimmed seats, ESP, ABS, heated front seats, dual zone climate control, LED ambient lighting, front fog lamps, parking sensors (front and rear), Xenon headlamps and 18-inch aluminium wheels.
Powered by a 3.0 litre common-rail diesel (CRD) engine that is capable to produce 215 bhp at 4,000 rpm and 376 lb.-ft of torque at 1,600 rpm, the 300C SE tops a V-max of 143 mph and covers the classic 0-62.5 mph sprint in 8.7 seconds.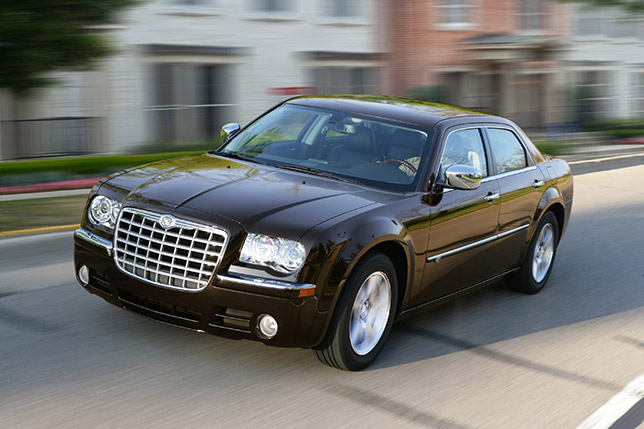 2010 Chrysler 300C SR is price tagged at £24,995. In addition to the SE specification, the SR level features auto-dimming rear view mirror, upgraded Boston Acoustics® sound system including subwoofer and uconnect® gps satellite navigation system, uconnect® phone with voice recognition, a hands-free communication system using Bluetooth technology. Available as optional extras on the SR are the power sunroof - £750 and heated rear seats - £250.
2010 Chrysler 300C SRT is priced at £27,995, it builds on the SR models with a striking mesh grille with chrome surround, body coloured door mirrors and door handles, wheel arch extensions, 20-inch aluminium wheels, leather and suede trimmed sports seats and carbon fibre interior details.
Priced at £41,795, almost double than the base model, the top-of-the range performance model boasts a 6.1 V-8 HEMI® petrol engine that generates the astonishing 425 horsepower with 420 lb -ft of maximum torque. The rear-wheel drive Chrysler 300C SRT-8 is capable of impressive performance times - 0 to 62.5 mph in just 5.0 seconds, standing start quarter-mile time in the high 13-second range, a top of speed of 165 mph and 0-100-0 in the mid 16-seconds.
The SRT-8 level adds also high performance Brembo brakes, power sunroof, performance tuned steering and suspension.