2010 Viper SRT10 goes unique with the Dodge Dealer Exclusive Program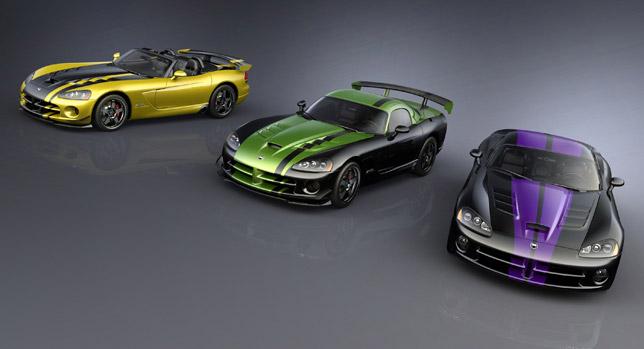 If you think that you have already saw everything from this generation Dodge Viper as it is in its last year of production, you will probably have to reconsider that. The American sporty brand is surprising us with the unwrapping of three new exclusively styled 2010 Viper SRT10 rides as a part of its "Dealer Exclusive Program."
This program is available exclusively for dealers who sold sufficient number of Vipers and allows them to design their own unique edition ride. Limited to only 50 examples of the 600 horsepower V-10 powered American sports car, the program is applied to only few dealers which can be found with the new dealer locator function.
On the picture bellow (from left to right) are the Dodge Viper SRT10 ACR Roadster, styled especially for the Woodhouse Dodge in Blair, Neb., which renders a Race Yellow Clear Coat exterior with yellow driver's stripe; the "Reverse SRT10 ACR" tailored for the Tomball Dodge in Tomball, Texas, featuring the reverse color combination of the Snakeskin Green Special Edition introduced earlier this model year; and the Black SRT10 Coupe with Plum Crazy dual racing stripes developed with Roanoke Dodge in Roanoke, Ill.