Hennessey Venom 800 Supercharged under dyno testing [w/video]

2016 Dodge Viper equipped with Hennessey Venom 800 Supercharged upgrade get chassis dyno testing
The latest video we have received from Hennessey Performance is showing how the specialists perform a chassis dyno testing on their latest variant of the 2016 Dodge Viper equipped with the Hennessey Venom 800 Supercharged upgrade. The video is featured below so that you can enjoy that sweet growling sound of the updated powertrain.
By the way, Hennessey Performance's Venom GT Spyder has been officially certified by Racelogic as world's fastest convertible. Back in April it achieved a top speed of 265.6 mph (427.4 km/h). Thanks to this, Hennessey added another milestone to its list of awards. Back in 2014, the company has made a spectacular record-breaking speed of the hardtop Hennessey Venom GT, during which it reached a top speed of 270.4 mph (435.3 km/h).
SEE ALSO: Hennessey Ford Mustang HPE800 is the hardest and most potent pony car so far 
The here presented Viper features company's so called Venom 800 Supercharger, which helps the engine achieve equally spectacular results. First, the power has jumped to 808 hp (594 kW) at 6,200 rpm, while the torque to 1070 Nm (790 lb-ft) at 4,200 rpm. In terms of performance, the 0-60 mph acceleration sprint is covered in 2.9 seconds, while the ¼ mile is reached in 10.5 seconds at 143 mph.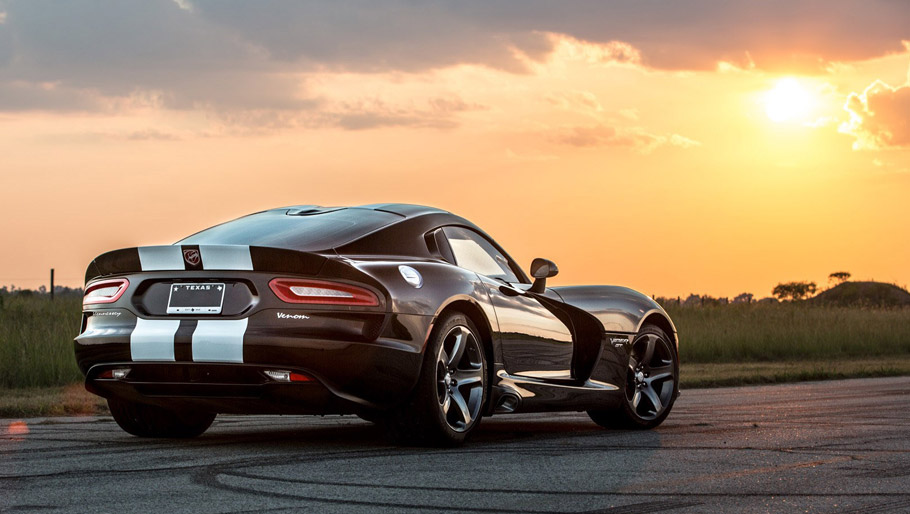 These fantastic results are due to the addition of a high-flow supercharger system with 5 psi boost pressure, additional air to the air intercooler system, extra high flow fuel injectors and brand new stainless steel 3 inch exhaust system.
Besides the cool engine upgrades, Hennessey is also offering some design tweaks for the Viper, which show its significance and custom individuality. We are speaking of the Hennessey and Venom® 800 & Supercharged emblems for the exterior, the serial numbered dash & engine plaques as well as the premium floor mats.
Enough talk! Are you ready to hear some noise?
Video Source: YouTube
Source: Hennessey Performance