2010 Ford Fusion, fusion Hybrid Offer Leading Fuel Efficiency, Smart New Technologies
Ford Motor Company announced today that the new 2010 Ford Fusion will offer consumers a more fuel-efficient powertrain lineup, including an all-new hybrid model that is expected to achieve class-leading fuel economy.
The new Ford Fusion and Mercury Milan hybrid models also offer owners a more connected driving experience, thanks to SmartGauge with EcoGuide, a unique new instrument cluster execution that helps coach drivers to improve fuel efficiency.
"Offering consumers more fuel-efficient vehicle choices, including maximizing the efficiency of our gasoline-powered engines, improving and increasing our hybrid vehicle offerings and increasing our use of fuel saving technologies such as six-speed transmissions, is part of Ford's plan to deliver technology solutions for affordable fuel economy for millions," said Derrick Kuzak, Ford's group vice president for Global Product Development.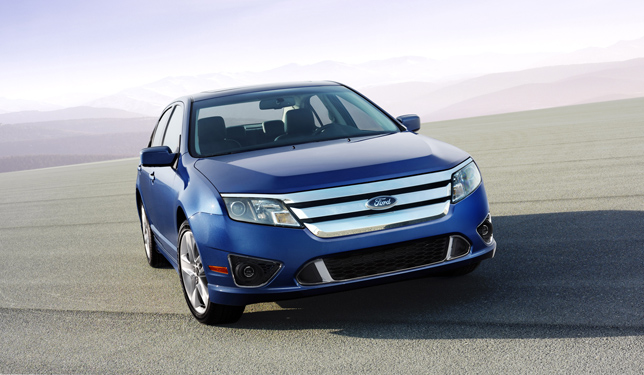 Improved gas engines
For 2010, Fusion and Milan will offer Ford's all-new Duratec 2.5-liter four-cylinder engine producing 175 horsepower; an enhanced 3.0-liter V-6 with 19 more horsepower than its predecessor; and a 3.5-liter V-6 that pumps out 263 horsepower on the Fusion Sport model.
Fusion models equipped with the 2.5-liter I-4 engine are expected to deliver at least 3 mpg better on the highway than the Honda Accord and 2 mpg better than the Toyota Camry.
All are paired with six-speed transmissions for up to a 10 percent fuel economy improvement and a host of other industry-first technologies aimed at improving performance while gaining fuel economy.
Next-generation hybrid system
Ford's next-generation hybrid propulsion system builds upon the proven success of the Escape and Mariner hybrids, delivering class-leading fuel economy for the all-new 2010 Ford Fusion and Mercury Milan hybrids that debut later this year.
With the new arrivals, Ford will be the producer of the most fuel-efficient mid-size sedans and SUVs in America – and the Fusion Hybrid is expected to perform at least 5 mpg better on the highway than the Toyota Camry hybrid.
The overall system upgrade allows the Ford Fusion and Mercury Milan hybrids to operate longer at higher speeds in electric mode. The hybrid vehicles can operate up to 47 mph in pure electric mode, about twice as fast as some competitors. Plus, the city driving range on a single tank of gas is expected to be more than 700 miles.
"With the new Ford Fusion and Mercury Milan hybrids, we are now able to offer even better range of travel on battery power at a greater speed, thanks to a more efficient, seamless transition between the battery-powered motor and gasoline-driven engine," Kuzak said. "These new hybrids will exceed expectations on all fronts – fuel efficiency, comfort, convenience and overall drivability."
With the addition of the two new hybrid sedans, Ford will be the largest domestic producer of hybrid vehicles in North America. All Ford Fusion and Mercury Milan models will be built at Ford's Hermosillo (Mexico) Stamping and Assembly Plant.
SmartGauge with EcoGuide
Ford's SmartGauge with EcoGuide, an innovative new instrument cluster, provides real-time information to help drivers maximum fuel efficiency.
Ford collaborated with IDEO and Smart Design, two world leaders in helping consumers connect with technology, to develop the instrument cluster. Job One was properly integrating the driver with the cluster's science and technology.
The driver is immediately engaged by the SmartGauge liquid crystal display (LCD) screens, on either side of the center-mounted analog speedometer, with a special greeting that combines illumination and graphics.
EcoGuide then uses a multi-layered approach to coach the driver to maximum fuel efficiency. A tutorial mode is built into the display and helps the driver learn about the instrument cluster and the hybrid in a whimsical way that does not overpower.
For instance, drivers can choose one of four data screens to choose the information level displayed during their drives. They are:
* Inform: Fuel level and battery charge status * Enlighten: Adds electric vehicle mode indicator and tachometer * Engage: Adds engine output power and battery output power * Empower: Adds power to wheels, engine pull-up threshold and accessory power consumption
All levels can show instant fuel economy, fuel economy history, odometer, engine coolant temperature, what gear the car is in and trip data, including trip fuel economy, time-elapsed fuel economy and miles to empty.