Ford Answers Customer RequestsFor Better Vehicle Visibility
Maneuvering through crowded mall traffic is a challenge on a good day. It is even less fun when it comes time to back out of the parking spot it took you so long to find.
Ford Motor Company is answering consumer requests for more visibility around their vehicles. Ford plans to continue its aggressive technology onslaught by doubling the number of Ford, Lincoln and Mercury models that offer its innovative and affordable Rear View Camera System by the end of 2009.
Approximately 75 percent of Ford vehicles will offer the feature by the end of next year, including the new 2010 Ford Mustang – the only sports car to offer the feature when it arrives in spring 2009 – and the recently introduced 2010 Ford Fusion and Fusion Hybrid.
"Ford is bringing new innovations such as the Rear View Camera System to as many customers as possible to help them see better when reversing," said Jim Buczkowski, director of electrical and electronics systems engineering at Ford. "Our research shows that visibility is one of the biggest customer concerns today, which is why we are the only company to offer a Rear View Camera System, Blind Spot Mirrors and the radar-based Blind Spot Information System with Cross Traffic system."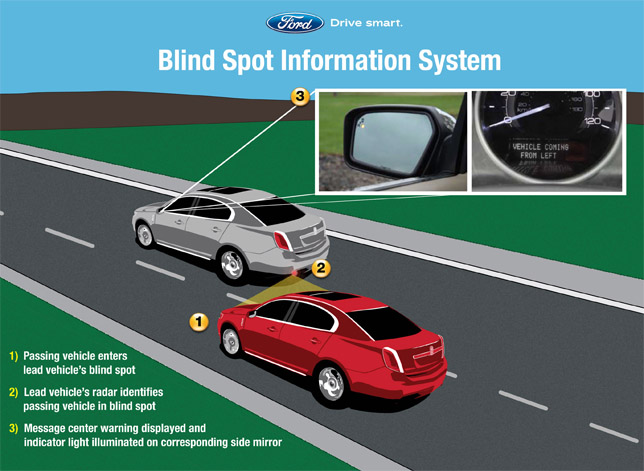 Ford's system uses an exterior camera embedded in the rear of the vehicle that sends images to a video display in the rearview mirror or the navigation system screen to help enhance visibility directly behind the vehicle when the driver is in reverse. Ford is leveraging the affordability of high-quality video cameras to widely offer the technology with navigation systems that also quickly have come down in price. The rearview mirror system allows customers to choose an even more affordable version of the technology.
Ford's Rear View Camera System image is overlaid with lines that mark the width of the vehicle and are shown either on a rear-view mirror display or navigation system screen. The camera's low light capability, combined with the intensity of the vehicle's reverse lamps, helps illuminate the image even in dark parking areas.
"We believe Ford's Rear View Camera System is easiest to use because there are lines to mark the vehicle's size for easier parking in tight spots," Buczkowski said.
A recent automotive study on "unmet consumer needs" indicates that visibility around the vehicle ranks as one of the top customer needs. The issue also has hit the legislative ranks. Earlier this year, the Kids and Cars Safety Act, spearheaded by Sen. Hillary Clinton, was signed into law. The measure is designed to protect children from vehicle-related, non-traffic accidents – which includes back-over incidents. The new law eventually will require vehicles to be equipped with standard back-over detection.
Ford's system will be offered on most of its full-size pickups, vans and crossovers – including the new BLIS® – with the added benefit of helping truck owners align and hitch trailers. And, demand is surging as nearly twice as many 2009 F-150s are ordered with the system than the 2008 model.
"The tendency with trucks is just to talk about the numbers, who has the most towing or the most payload," said Doug Scott, Ford's Pickup, SUV, and Commercial Vehicle Marketing Manager. "We lead in both of those areas, but equally important is that we're making it easier to use that best in class capability. The Rear View Camera System makes hooking up to a trailer so much easier than it's ever been before, so trucks are the ideal vehicle for this feature."
New Technologies Benefit Drivers of All Ages
Ford studies show that radar- and camera-based active safety and driver-aid technologies – such as backing and parking aids, forward collision warning systems and Adaptive Cruise Control – are particularly useful to drivers with slow reaction times or limited range of motion. One in five drivers – 54 million people in the U.S. – cope with temporary or permanent physical challenges such as injury or obesity that can inhibit their abilities to turn their heads to check blind spots or avoid a rear-end collision, Ford researchers have learned.
Also, aging Baby Boomers will increase the number of licensed drivers 65 years and older – who generally face more physical challenges, slower reaction times and decreased depth perception – by 25 percent to 40 million by 2020.
"Systems that support backing and parking maneuvers also helped improve the performance of drivers with physical limitations," said Dr. Louis Tijerina, Ford senior technical specialist.
Ford will launch new Blind Spot Mirrors, Collision Warning with Brake Support forward collision warning technology and BLIS® (Blind Spot Information System) with Cross Traffic Alert – a radar system that helps detect vehicles in blind spots during normal driving and oncoming traffic when reversing out of parking spots – in 2009.
The new technologies build on Ford's leading number of top safety ratings, including the most 5-star government ratings of any automaker, and a leading number of Insurance Institute for Highway Safety "Top Safety Picks."