2011 BMW M3 Pickup
BMW has introduced 2011 M3 Pickup. The car is the fourth bodystyle variant in the M3 line-up after the sedan, coupe and convertible. M3 Pickup has a 450 kg load capacity and with its staggering power is the fastest production pickup on the planet.
BMW M3 Pickup is powered by the same 4.0 liter naturally aspirated V8 with 420PS (309 kW) and 400Nm (295 lb-ft) of torque. The Pickup has the same cd quotient as on the M3 Coupe and its top speed is 300 km/h (186 mph).
The company has already tested the car at the Nurburgring and the performance was great. However, official lap times are not revealed.Still, M3 Pickup features all advantages of the coupe plus up to 450 kilos load capacity.
the loading area of the BMW M3 Pickup the capacity to carry up to 20 standard 46-inch golf bags. What's more, the BMW M3 Pickup is the first BMW M3 variant in the 25-year-plus history of this model range to come with a trailer tow hitch.
The kerb weight of M3 Pickup is 50 kg lower than the Convertible variant. Removing the Targa roof shaves off a further 20 kg while at the same time lowering the car's centre of gravity.
Finally, BMW has announced that the M3 Pickup will not go in series production, but it will retain its status as an exclusive one-off. It is earmarked for use as a workshop transport vehicle for BMW M GmbH.
Still, it is 1st of April and we don't know is it true or BMW will surprise everybody!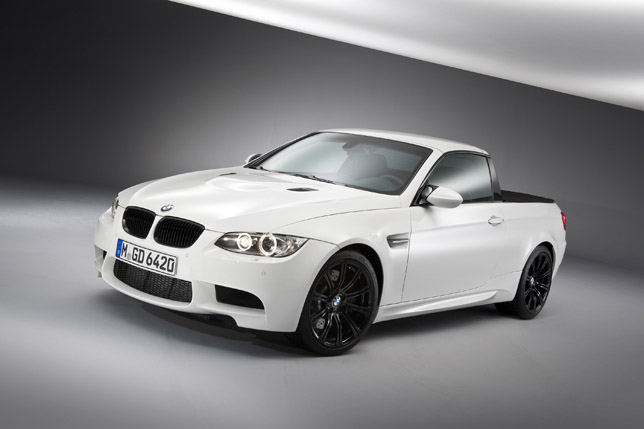 Source: BMW