2011 JM Cardesign Mini One R50
This Mini One R50 undeniably could win innumerable cups thank to its unique design. The latter is made by the talented creatives from JM Cardesign. The company from Bergheim is responsible for turning the mini from a serial car to a motorsport look show car. Moreover it has huge range of modifications and detail improvements!
First of all in the fascia of the MINI JM Cardesign integrated with the characteristic air inlet motor hood (which is usual for its big compressor brother Cooper S and its side indicator lights, including the red "S"). Furthermore a very special upgrade was made on the doors: with the LSD hinges installed by JM Cardesign, they now open upwards. In addition the company included as wee racing style side sills which are located below. Above the tail windscreen, there is a carbon tail wing of the series spear tip "John Cooper Works".  And as you can see, the car looks very similarly to a racing car form the mini cup. This effect is due to the many decals which were applied to the body.
Unfortunately, if you expect that with this car you can participate in racing competitions, well – you will be disappointed. This car is a show vehicle rather than a racing one. This means that the 1.6 litre four-cylinder motor was not changed, and still has an output of 90 HP (66 kW). However with its special exhaust system from the cat, the small motor will pretend successfully that it had at least twice its actual output.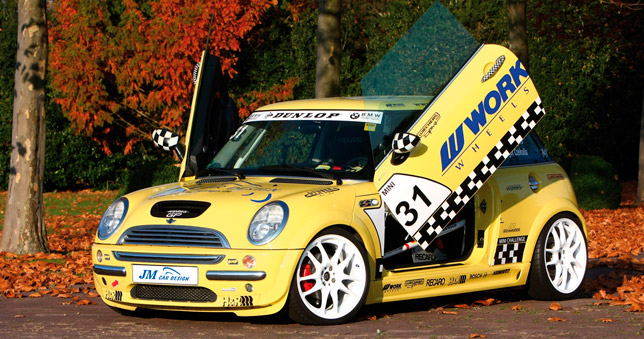 2011 JM CarDesign Mini One R50
Another detail which probably reminds you for the racetrack is the white-painted CR Kai light metal wheel rims from Work Wheels. The Bergheim tuner combined the 7.5x18-inch racing look one-part wheel rims with Dunlop rubbers in 215/35ZR18. And if you wonder whether there's something improved behind the wheels, this time you will be content to hear that there are perforated Brembo braking discs that look decorative while also enhancing the deceleration performance. And the perfect road adhesion of the mini, was achieved by installing an H&R threaded chassis. Between the two front strut towers, a red Wiechers bar was installed to improve stiffness.
The interior of the One is also made in racing style. For instance there are two Recaro pole position shell seats, which are placed in the white Wiechers roll cage, securing passengers with 3.5 inch wide Schroth-4-point belts. To match the car body great parts of the dashboard cover were painted in the car's colour and decorated with decals. In the current modification of the MINI the back seat was removed, and an original mini cup racing tank is placed behind the back of the roll cage. In addition, the mini was given a basic multimedia system in the form of a Clarion-Head unit with Flip-Monitor and connected reversing camera.
Source: JM CarDesign