Bentley embraces the V8 world
The original Bentley continental GT launched in 2003 has been a major success on the global market. Up until now over 50 000 customers have had the privilege to own one and marvel at the magnificent W12 6.0 twin-turbo engine that powered them. Spawn from the biggest ever twelve cylinder factory in Crewe, England, it was, and still is a refined beast which embodied the engineering supremacy of Bentley Motors Limited
Nowadays however, with the tightening regulations on CO2 emissions and the constant climb of fuel prices, Bentley needs a new strategy. What they intend to do is broaden their production range by adding a new sophisticated V8 engine that will deliver all that there is expected from a V8 and yet it will also show that Bentley is after all an environmentally conscious company with a few tricks up its sleeve.
According to the figures given, performance will not be impaired. We are talking about a 500BHP powerhouse which will grant you 660Nm (487 lb ft) of torque within the 1700rpm – 5000rpm range. Pair that with a close-ratio 8 speed auto-box and you'll get less than 5 seconds of 0-60mph acceleration time and a top speed of a 180mph – hardcore. It is also four-wheel-drive but uses a torque split system with a Toresn differential that sends only 40% of the power to the front tires so we get all the safety with none of the drawbacks.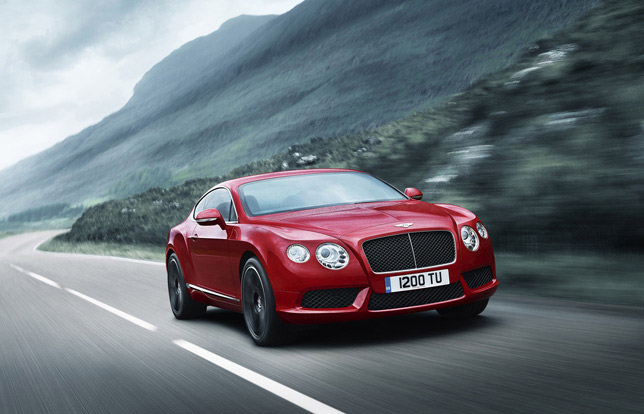 But let us talk about the clever bits. Bentley say they have manged to achieve great power-to-economy ratio. Mind you this is in terms of luxury performance economy so we are not actually saving the planet here. Yet one has to admit that the claimed 40 percent improved fuel efficiency does sound impressive. That and a travel range of over 500 miles (800km) on a single tank of fuel are the only official claims we have so far. There will be more available early in 2012 when the Continental GT and GTC (which will debut these engines) are introduced on the American International Auto Show in Detroit.
So how do they achieve these feats of economy without harming the Bentley spirit? The company engineers have employed a complex engine management system which  allows the car to potter all day in town using only four of the cylinders and then when you put your foot down on lets say an extra urban road you get all the cylinders you need to bend time and space. It is a system that has been around but nor very common. Other more standard features include: high pressure direct injection, low friction bearings, thermal management, energy recuperation via the charging system, and an innovative turbo charger packaging all work together in the name of efficiency.
And how do we tell apart these newcomers from the top of the range GT W12? Petrol heads will have no problem recognizing the distinctive V8 growl but for the more oblivious there have been some sublime visual alterations. The grille is a glossy black matrix mesh which has been framed and also slashed  in the middle with some chrome. Three patches of the same mesh is also used to style the front lower bumper. The hallmark "B" badge is in enamel red in front and at the back as well. Two chromed tailpipes each representing an ominous "eight figure" add to the aggressive look. And speaking of aggression both of the models come with 20 inch alloys as standard but if you really want to leave an impression the optional 21 inch diamond black or diamond silver ones are up for the job. The interior is as sporty as it is luxurious – Eliade cloth headlining garnished with Dark Fiddleback Eucalyptus veneers, two-toned leather theme as an optional extra and a short centre console made for the appeal of the demanding customer.
Will the new Continental GT and the convertible GTC pose as fine compliments to the astonishing W12? Only time will show.
Source: Bentley