2012 F1 Season - McLaren MP4-27
Vodafone McLaren Mercedes has unveiled the new Mp4-27 ahead of the 2012 FIA Formula 1 World Championship. The Formula 1 car was presented at the McLaren Technology Centre.
Maintaining the belief in the validity of strengthened continuity, Vodafone McLaren Mercedes is the only team in Formula 1 whose driver line-up consists of two world champions: Jenson Button and Lewis Hamilton. Between them, they have scored 22 grand prix victories for Vodafone McLaren Mercedes and are the strongest and most consistent driver line-up in the sport. Maintaining the partnership into a third successive season was merely a formality.
While the all-new Vodafone McLaren Mercedes MP4-27 closely resembles last year's multiple race-winning car, the 2012 chassis has been substantially revised from the ground-up, with all major systems updated or re-designed for the new season. The most evident visual differences include more tightly waisted rear bodywork, developed to improve flow to the rear of the car, and a revised cooling system, which re-directs the gearbox oil-cooler. Last year's U-shaped sidepods have also been re-designed – a legacy of the FIA's new exhaust regulations that redefine the shape of the rear bodywork.
On the technical front, our exemplary engineering trio Tim Goss (director of engineering), Paddy Lowe (technical director) and Neil Oatley (director of design and development programmes) once more remain at the forefront of the drawing office. For 2012, they will be joined by sporting director Sam Michael, whose arrival coincides with the re-organisation of our trackside personnel roster to ensure both growth and development within the group.
Check out the technical specification below!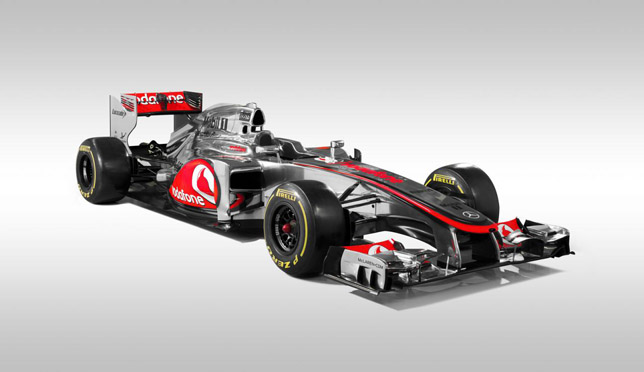 MP4-27 technical specification
:
Chassis - Monocoque McLaren-moulded carbonfibre composite incorporating front and side impact structures Front suspension - Inboard torsion bar/damper system operated by pushrod and bell crank with a double wishbone arrangement Rear suspension - Inboard torsion bar/damper system operated by pullrod and bell crank with a double wishbone arrangement Electronics - McLaren Electronic Systems. Including chassis control, engine control, data acquisition, dashboard, alternator, sensors, data analysis and telemetry. Bodywork - Carbon-fibre composite. Separate engine cover, sidepods and floor. Structural nose with integral front wing, Driver-operated drag reduction system Tyres - Pirelli P Zero Radio - Kenwood Race wheels - Enkei Brake callipers - Akebono Master cylinders - Akebono Batteries - GS Yuasa Corporation Steering - McLaren power-assisted Instruments - McLaren Electronic Systems Paint solutions - AkzoNobel Car Refinishes using Sikkens products Engine
Type - Mercedes-Benz FO 108Z Capacity - 2.4 litres Cylinders - 8 Maximum rpm - 18 000 Bank angle - 90° Piston bore maximum - 98mm Number of valves - 32 Fuel - ExxonMobil High Performance Unleaded (5.75% bio fuel) Spark plugs - NGK racing spark plugs specially designed for Formula 1 Lubricants - Mobil 1 – combining greater performance, protection and cooling with increased economy and lower emissions Weight - 95kg (minimum FIA regulation weight)
KERS Hybrid
Type - Mercedes-Benz e-Motor Engine-mounted electrical motor/generator ESS Integrated energy storage cells and power electronics Power - 60 kW Transmission
Gearbox - McLaren-moulded carbon-fibre composite Integral rear impact structure Gears - Seven forward and one reverse Gear selection - McLaren seamless shift, hand-operated Clutch - Carbon/carbon, hand-operated Lubricants - Mobil
Source: McLaren