Lagonda V12 Prototype gets the gold at Double Twelve
The inaugural Brooklands Motoring Festival: The Double Twelve, which took place over 28/29 June, was a resounding success with almost 15,000 visitors attending over the weekend.
Out of the 129 competitors in The Double Twelve, concours d'elegance combined with a series of driving tests based on the JCC Rallies of the 1930s, Jonathan Oppenheimer emerged triumphant with his exemplary driving skills combined with the flawless appearance of his Lagonda V12 Prototype.
Peter O'Halloran, managing director of Mercedes-Benz World which organised the Festival in conjunction with the Brooklands Museum, commented: "The standard of entries in The Double Twelve was excellent – we had competitors travel from as far afield as Japan and California to enter the contest."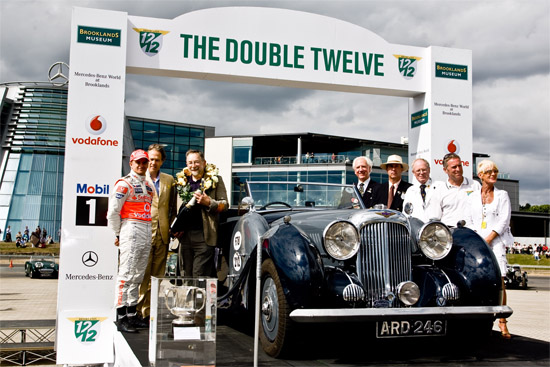 Allan Winn, Brooklands Museum, added: "The judges all agreed Jonathan's Lagonda was simply outstanding, and typical of the world-class standard associated with the vehicles exhibited at international Concours d'Elegance events such as Pebble Beach."
Jonathan was presented with a gold laurel wreath and a magnum of champagne by Vodafone McLaren Mercedes Formula 1™ driver Heikki Kovalainen who made a number of driving appearances at the Festival along with his team-mate, Lewis Hamilton and racing legend Sir Stirling Moss. Also presenting the prizes was The Earl of March, whose Grandfather was a regular competitor at Brooklands and, with co-driver Chris Staniland, won the Double Twelve race in 1931 driving a 750cc MG.
Competitors in The Double Twelve participated in six tests based on and around the original Brooklands circuit: Test Hill, Steering Test, Wiggle Woggle, Parking, The Half-Mile and Quick Start.
Vehicles were judged against the exacting criteria of a Concours d'Elegance by a select panel of experts with points awarded for both concours and test performances.
Other Double Twelve winners were as follows:
CLASS: Austin – Healey Sprite Mk1, 50th anniversary
First: Peter Renn, Austin Healey Mk 1 Sprite
Finalists: Alex Postan, AH Sprite; Hilary Stevens, AH Sprite
CLASS: Austin Martin DB4, 50th anniversary
First: Bryan Smart, Aston Martin DB4 Series 1
Finalists: Damen Bennion, DB4 Series 2; Lord Harris of Peckham, DB4 GT Zagato
CLASS: The 'Grand Tour' Pre-War
First: Christopher Claridge-Ware, Lagonda M45 Tourer
Finalists: Michael Drakeford, Lagonda M45 Tourer; Derek Green, Lagonda M45 Rapide
CLASS: The 'Grand Tour' Post-War
First: David Gasken, Bentley R Type Continental
Finalists: Robbie Webb, Alfa Romeo 1900C SS; Dennis Simanaitis/MB Classic, MB 300SL Roadster
CLASS: The Triumph Roadster
First: Roger Pearce, Triumph Roadster
Finalists: Ron Cromar, Triumph Roadster; Andrew Morley, Triumph Roadster
CLASS: Prototypes and 'One-Off' Specials
First: Jonathan Oppenheimer, Lagonda V12 Prototype
Finalists: James Anderson, Ford Mustang Four Wheel Drive Prototype; Anthony Brazzo, Jaguar E Type by Frua
CLASS: Mille Miglia/RAC Rally
First: Anthony Hussey, Lancia Aurelia Spyder
Finalists: Simon Constable, Aston Martin DB2; Guy Loveridge, Morgan Plus 4
CLASS: Veteran and Edwardian
First: Robert Vincent, Panhard et Levassor
Finalists: John Dennis, Dennis Tonneau; John Dennis, Berliet-Curtiss Racer
CLASS: Historic Brooklands, Vintage
First: Christopher Jaques, Bugatti Type 35
Finalists: Adrian Stevens, Bentley 3-4½ Litre; John day Bugatti Type 35
CLASS: Historic Brooklands, Post Vintage Thoroughbred
First: Geoff Radford, MG Mk 3 Tigress
Finalists: David Naylor, MG L2 Magna; Richard Wadman, Alvis Speed 20
CLASS: Spirit of Brooklands, Pre-War
First: David Hince, MG K3
Finalists: Julian Grimwade, Bentley 4½ Litre Bobtail; Patrick Gardner, MG 18/80
CLASS: Spirit of Brooklands, Post-War
First: Paul Lovett, MGA Twin cam
Finalists: Nigel Tipping, Sunbeam Tiger; Michael Wooding, Jaguar XK120 Roadster