2012 Fiat 500 Nation
Fiat will exhibit a new special edition 500 Nation at the Bologna Motor Show. The manufacturer will produce just 500 units for both saloon and convertible version. The new Fiat 500 Nation Limited Edition is the tribute that the brand dedicates to the great countries where the car is sold.
The special edition 500 features exclusive metallic shade America Blue paint, mirror fairings with "Stars & Stripes" graphics, stickers, dedicated beltline and 16" alloy wheels with red cap edge. American inspiration and iconography are also found in the interiors with red/ivory seats and contrasting white dashboard.
The white three-layer paint and "Stars & Stripes" mirror fairings are combined with the red top and the graphics in the colours of the American flag in the beltline in the convertible version. In this case the elegant 16" alloy wheels are finished with a blue rim edge.
The standard equipment of the 500 Nation boasts manual air conditioning, exterior chrome-plating in both saloon and convertible versions. There is also a badge on the pillar bearing the serial number of this limited edition makes this car unique.
The new 500 Nation America Limited Edition can be ordered from late February 2012. It is priced at €14 500 for the saloon model and €18 000 for the convertible.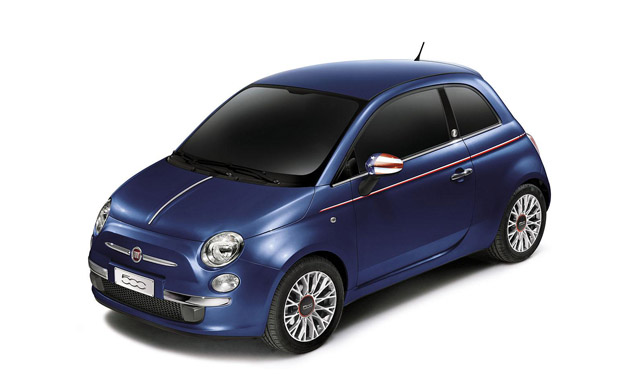 Source: Fiat