2012 Jaguar XJ Sport
Jaguar has announced the new 2012 XJ Sport Saloon combining elegance, drama and sporting fortitude. There is also a Speed Pack to further emphasise the performance aspect of its character.
The Sport Pack – available throughout the XJ range – comprises a number of exterior and interior design options that clearly underline the assertive side of the car's personality. Externally the appearance of the XJ has been made even more dramatic with the addition of aerodynamically optimised changes to the bodywork and an alloy wheel design specific to the Sport Pack.
The functional aerodynamic changes of the Sport Pack allow supercharged XJ models to be additionally offered with the Speed Pack, which raises the limited top speed from 250km/h (155mph) to 280km/h (174mph).
2012 Jaguar XJ is offered with twin-turbo diesel, a 3.0 liter V6 petrol and naturally-aspirated 5.0 litre AJ-V8. On supercharged AJ-V8 models, the Sport pack can be combined with the Speed Pack.
The XJ benefits from superb aerodynamics and Jaguar's innovative lightweight aluminium architecture to offer weight savings of up to 150kg over its competitors. This offers tangible benefits in terms of economy, emissions, driving dynamics, agility and, of course, performance.
The Sport Pack is available on nearly all engine variants, including the muscular twin-turbo diesel, market-specific 3.0 V6 petrol and naturally-aspirated 5.0-litre AJ-V8 where it serves to emphasise the sporting character and driver involvement that are core strengths of every XJ model.
The Sport Pack includes an aerodynamic splitter beneath the bumper, bootlid lip and new 20" Venom alloy wheels with a diamond-turned sparkle silver finish.
Inside the vehicle offers changes that give driver and passengers a heightened sense of occasion and an indication of the dynamic abilities available. There are sports front seats trimmed in softgrain leather and active ventilation. There are also stainless steel pedals engraved with the Jaguar name, eye-catching Piano Black trim and carbon-fibre highlights.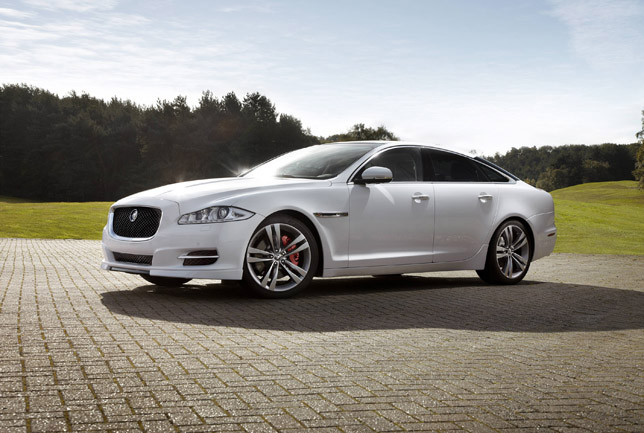 Source: Jaguar