2012 Jaguar XK
2012 Jaguar XK now features an elegant new look with elements from XKR-S, which was unveiled at the 2011 Geneva Motor Show.
The new XK features revised slimmer headlights with subtle LEDs. They sit above a new larger grille framed in chrome. Apair of small air scoops feeding air to the brakes are mounted on each side of the car. At the rear, 2012 XK also features LED technology built in the taillights.
The interior boasts new trim finishes and leather sports seats. The luxury is all around the cabin, because of the expensive materials and nice touches.
The new XK and XKR will be available in both coupe and convertible variant. The sport version – XKR-S will be delivered in coupe form. All models will hit the UK market in September.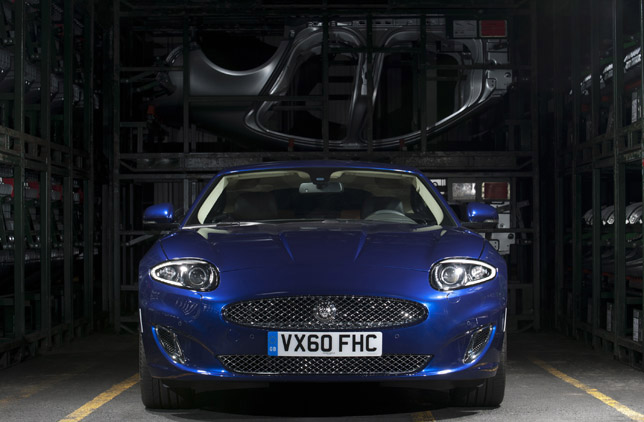 2012 XK range at a glance
Coupé:
| | | | | | |
| --- | --- | --- | --- | --- | --- |
| Engine | Power (PS) | Torque (lbs ft) | 0-62 / max speed (mph) | Comb economy (mpg)/CO2 (g/km) | Price (RRP, OTR) |
| 5,000 cc, 32-valve, V8 | 385 | 380 | 5.5 / 155 | 25.2 / 264 | £65,000 |
| 5,000 cc, 32-valve, V8, Supercharged | 510 | 461 | 4.8 / 155 | 23.0 / 292 | £78,550 |
| 5,000 cc, 32-valve, V8, Supercharged XKR-S | 550 | 502 | 4.4 / 186 | 23.0 / 292 | £97,000 |
Convertible:
| | | | | | |
| --- | --- | --- | --- | --- | --- |
| Engine | Power (PS) | Torque (lbs ft) | 0-62 / max speed (mph) | Comb economy (mpg)/CO2 (g/km) | Price (RRP, OTR) |
| 5,000 cc, 32-valve, V8 | 385 | 380 | 5.6 / 155 | 25.2 / 264 | £71,000 |
| 5,000 cc, 32-valve, V8, Supercharged | 510 | 461 | 4.8 / 155 | 23.0 / 292 | £84,550 |
Source: Jaguar