Jaguar Introduces XK Signature And Dynamic R Special Editions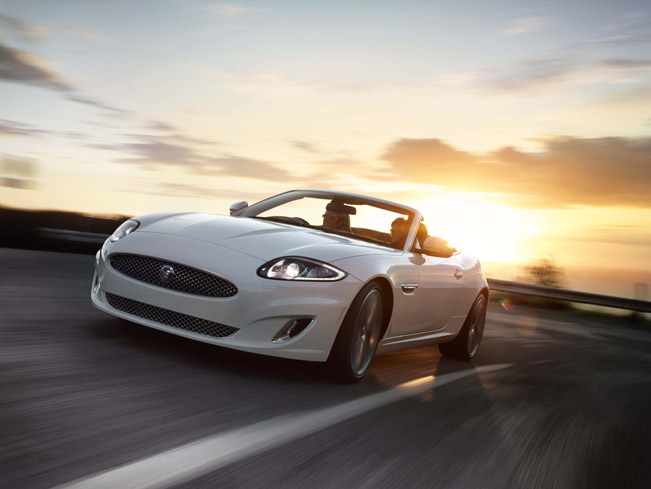 Two special edition Jaguar XK models are now being introduced by the brand. The Signature and Dynamic R specification are to be available in Coupé and Convertible form and will add impressive performance technologies and luxury features.
Jaguar XK Signature model focuses on luxury. It is equipped with a 5.0-litre V8 engine which produces 385 hp (283 kW). The car is fitted with standard 20" Kalimnos wheels and Reverse Park Camera. On the other hand XK Dynamic R, which is based on the existing XKR, focuses on performance. It is equipped with a 5.0-litre supercharged powertrain capable of delivering 510 horsepower (375 kW). This variant also offers Black Dynamic Pack that comprises of XKR-S suspension and dynamics and a 10mm reduction in ride height, as well as Speed Pack, which consists of an Aerodynamic Pack and an increased top speed of 174 mph. Standard equipment here is also the Performance Active Exhaust.
Precisely, the supercharged 5.0-litre V8 engine offers not only great power but also enhanced fuel efficiency. The reason for this is that incorporates spray-guided direct injection (SGDI) and dual independent variable cam timing (DIVCT). Furthermore, the engine has been constructed from lightweight aluminum, which in the cylinder heads is recycled to minimize the environmental impact.
The other impressive detail here is that the XK Signature reaches 100 km/h from standstill in 5.2 seconds, and produces 515 Nm (380 lb-ft) of torque. The top speed here is 155 mph while the CO2 emissions are rated at 264 g/km.
The XK Dynamic R's 5.0-litre supercharged V8 offers torque figures 625 Nm (461 lb-ft), taking the car to 100 km/h in just 4.6 seconds. Although this Jaguar is extremely powerful, it also offers great efficiency and 292g/km CO2 emissions.
Both variants are quipped with a six-speed ZF automatic gearbox with steering wheel-mounted paddles, which control Jaguar's Sequential Shift function for greater driver control. Dynamic R edition has an advantage: it features Jaguar's Active Differential Control technology, which utilizes a multiplate clutch to vector torque to the driven wheel with the most grip. XK Signature on the other hand uses a mechanical differential, which delivers outstanding levels of grip and stability under power.
Both cars are fitted with Dynamic Stability Control system. The latter has four modes: Normal, Winter, TracDSC and DSC Off. The double wishbone front suspension on both models includes a fully-machined steering knuckle, while the rear suspension features rear wheel steer that has been optimized for maximum agility.
Furthermore, the XK Dynamic R comes as a standard with a Black Dynamic Pack. The latter comprises of suspension technology, Adaptive Dynamics, lowered ride height by 10mm. The other standard pack here is the Speed Pack, which increases the maximum speed from 155 mph to 174 mph, and also features a body-coloured Aerodynamic Pack with front splitter and larger rear spoiler body-coloured rear diffuser and side sill extensions. A Performance Active Exhaust is also fitted as standard here.
The interior of the Signature is given Luxury seats in the choice of Ivory or Charcoal soft grain leather. It also features Canvas Suedecloth headlining, Figured Ebony veneers and Bright Metal sport pedals. The XK Dynamic R on the other hand is fitted with sewn Performance seat in either Ivory/Charcoal soft grain leather with Ivory contrast stitch or Charcoal/Red soft grain leather with Red contrast stitch leather. The interior Jet Suedecloth headliner is complemented with Piano Black veneers, while Bright Metal sport pedals come also as standard.
Both variants run on 20 inch wheels. In case of the XK Signature they are Kalimnos or Takoba wheels, while XK Dynamic R has the Vortex diamond turned wheels with distinctive Red painted brake calipers as well as Vulcan Gloss Black lightweight alloys.
Jaguar will offer both the XK Signature and Dynamic R editions in the choice of the following exterior colors: Polaris White, Ultimate Black, Stratus Grey, Italian Racing Red, Dark Sapphire and British Racing Green.
Jaguar XK Signature Specifications:
XK SIGNATURE
Engine
5.0-litre V8 petrol
Capacity (cc)
5000
Peak Power (PS@rpm)
385@6500
Peak Torque (lb/ft @rpm)
461@2500-5500
Peak Torque (Nm@rpm)
515@2500-5500
Transmission
Six-speed automatic
0-60mph (secs)
5.2 (Coupé) 5.3 (Convertible)
0-100km/h (secs)
5.5 (Coupé) 5.6 (Convertible)
Top Speed (mph | km/h)
155 | 250 (electronically limited)
Combined Economy

(EU mpg | l/100km | US mpg)

25.2 | 11.2 | 19.0 (Coupé)

25.2 | 11.2 | 18.0 (Convertible)

CO2 Emissions (g/km)
264
Jaguar XK Dynamic R Specifications:
XK DYNAMIC
Engine
5.0-litre V8 supercharged petrol
Capacity (cc)
5000
Peak Power (PS@rpm)
510@6000-6500
Peak Power (kW@rpm)
375@6000-6500
Peak Torque (lb/ft @rpm)
461@2500-5500
Peak Torque (Nm@rpm)
625@2500-5500
Transmission
Six-speed automatic
0-60mph (secs)
4.6
0-100km/h (secs)
4.8
Top Speed (mph | km/h)
174 | 280 (electronically limited)
Combined Economy

(EU mpg | l/100km | US mpg)

23.0 | 12.3 | 17.0
CO2 Emissions (g/km)
292
Source: Jaguar