2012 Kia Optima Hybrid
Kia has a lot of experience producing alternate fuel vehicles. The manufacturer has produced its first electric vehicle (EV) – based on the Besta van – as long ago as 1986, and an electric version of the Sportage in 1999.
At the 2010 Los Angeles International Auto Show, Kia revealed a petrol-electric hybrid version of the new Optima saloon, which is now on sale in both the USA and Korea. It is powered by a a 2.4-litre petrol engine and a 30kW (48 PS) electric motor driving through a hybrid-specific six-speed automatic gearbox.  The combined power is 206PS (151 kW) 263Nm (195 lb-ft) of torque.
Optima Hybrid has lithium-ion polymer battery which is 30% lighter than the nickel-metal hydride systems in rivals, but has a higher energy density. It can accelerate to more than 60mph (96 km/h) on battery power alone.
Kia Optima Hybrid returns up to 44mpg – 6.4 litres per 100 km in city and 47mpg – 6.0 litres per 100 km on the highway. There are no apparent features that differentiate it from the Kia Optima except for a badge, different wheel discs and special Light Platinum Graphite paint color.
Four-wheel antilock brakes (ABS), Electronic Stability Control (ESC), Traction Control System (TCS), Brake Assist System (BAS) and Hill Assist Control (HAC) are also standard.
2012 Kia Optima Hybrid is priced at $26 500.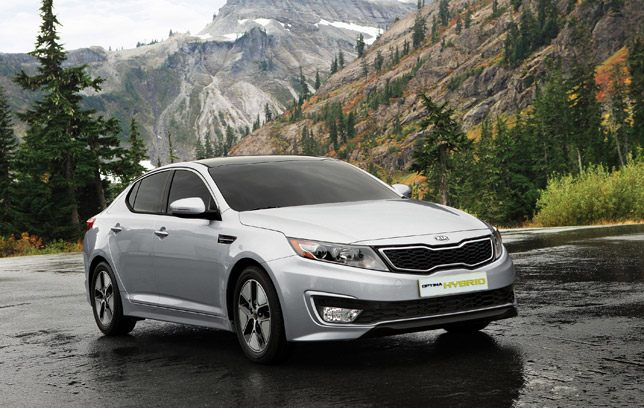 Source: Kia