2016 Kia Plug-In Hybrid Revealed Ahead of Global Debut: Here is All You Should Know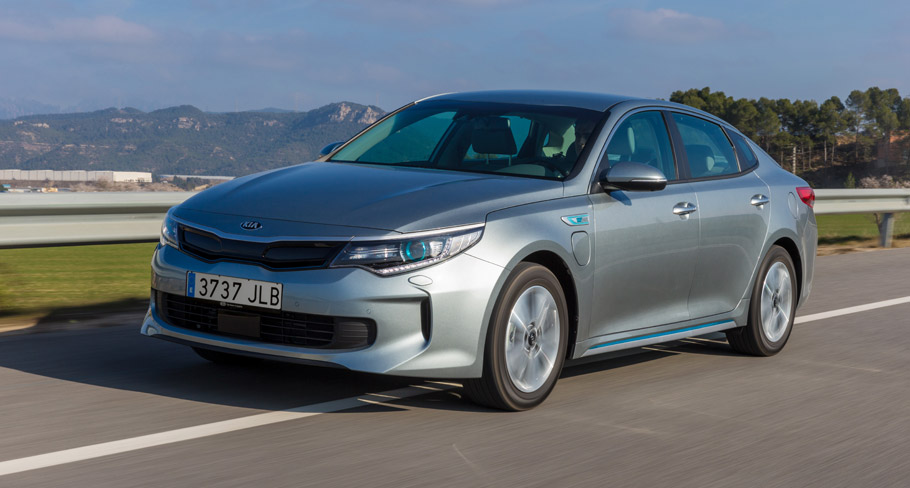 Kia's first Optima Plug-in Hybrid, brand's first ever plug-in hybrid electric car, will make its world debut at the Geneva Motor Show next month, ahead of the car going on sale later in 2016. So, despite being the first "green" Kia vehicle, what else is special about this one?
The first and most important feature of the new Optima is the greater battery capacity and electric range that enable up to 33 miles (59km) in electric-only mode. After that the efficient and flexible 2.0-liter GI gasoline direct injection power unit is engaged and provides smooth and overall pleasurable drive.
Also, in terms of drivetrain system, the Hybrid is powered by a 9.8 kWh lithium-polymer battery pack with 50kW electric motor which allows the vehicle to operate in the range of 33 miles with a speed of up to 120km/h (66kW).
The gasoline unit offers the aid of four cylinders and generates a total of 156hp (114kW) and 189 Nm of torque.  What is also special about the engine is that it allows the car to operate in change-sustain mode right after the battery runs out of charge. And when the force between electricity and gasoline is combined, the total output that is produced is 205hp (150kW) and 375 Nm of torque. Impressive, right?
And what about the performance? The combination of highly efficient powerplant and battery does not mean that the vehicle is slow or "lazy". In fact, this model is a faster and more agile than the previous one. The vehicle goes from 0 to 100km/h in 9.4 seconds (this means with 0.6 seconds faster than the predecessor)
Exterior design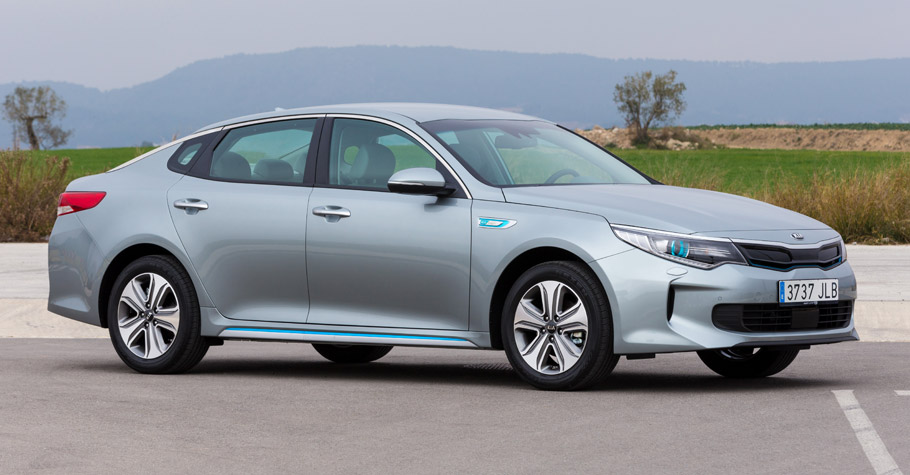 Optima Plug-in Hybrid can be instantly recognized as a Kia vehicle, thanks to the improved, but still well-known visuals. The restyled active air flap grille is not only a piece of beauty, but also, when activated, reduced drag coefficient and at the same time, the front and rear bumpers enable more efficient air-flow over the body, thanks to the more aerodynamic design.
Also special for this model is the exclusive chrome trim with smooth metallic blue finish for the rear bumper, grille surround and wheel arches.
Interior design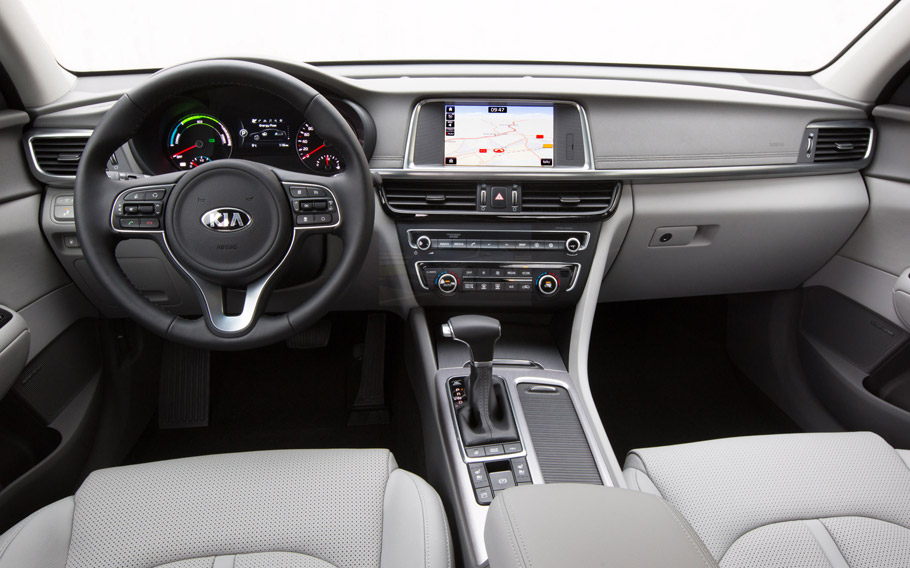 The inside of the vehicle features tons of enhancements and upgrades that reflect Kia's innovative nature and desire to keep up with contemporary automobile trends. There is a new instrument cluster display, infotainment system and of course, overall enhanced ambience for even higher levels of comfort.
SEE ALSO: Christopher Walken Shows What's Inside His Closet in the new Kia Super Bowl Ad [w/video]
In terms of equipment, Optima Plug-in Hybrid comes with Kia's latest audio-visual navigation with 8.0-inch touch screen, DAB digital radio, Android Auto and Apple CarPlay.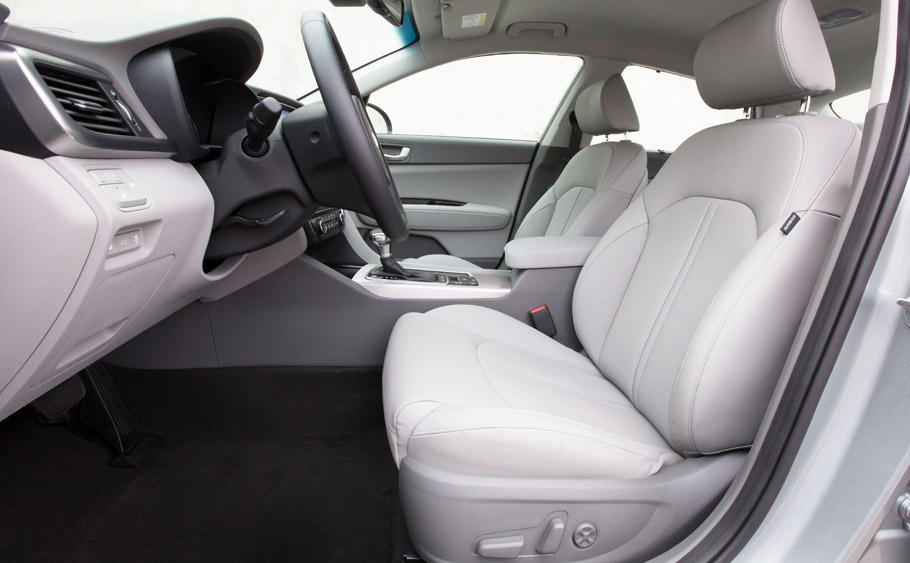 Also, the vehicle is equipped with two key technologies for saving and intelligently consuming energy: the Coasting Guide Control and regenerative braking. The braking system allows the vehicle to harvest kinetic energy while coasting or braking in a such way that the whole drivetrain system is able  to regenerate energy and recharge the Plug-In Hybrid technology. How cool is that?
Additional equipment and safety features
Optima Plug-in Hybrid offers high levels of safety, thanks to its lightweight, but high-strength body and of course, by the numerous active and passive safety features. Also, the body benefits from the extensive use of Advanced High-Strength Steel that dominates more than 50% of the body.
Furthermore, the Hybrid is fitted with Vehicle Stability Management that ensures stability under braking and cornering by controlling vehicle's Electronic Stability Control system that activates if loss of traction is detected. Also, the latest Kia family member comes with extended range of safety systems that include: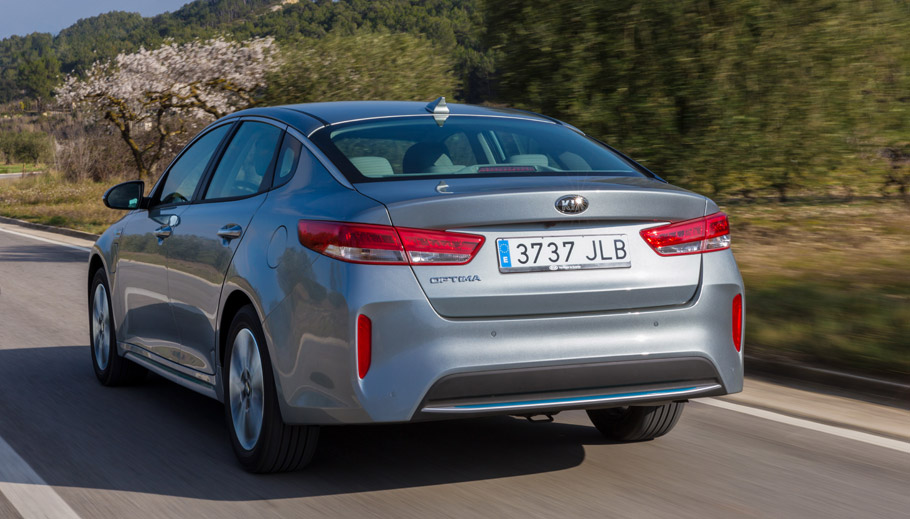 Advanced Smart Cruise Control; Autonomous Emergency Braking; Lane Keeping Assist System; High Beam Assist; Speed Limit Information Function; Blind Spot Detection and Rear Cross Traffic Alert.
Also, there is a short-range "City" radar integrated that helps drivers avoid or mitigate the effects of front collision when driving with speed under 50km/h  and there is also a long-range "Urban" radar that enables the vehicle to detect and respond to obstacles between 30 and 80 km/h.
So, what do you think about this one? We do look forward to vehicle's unveiling and we are impatient to give you even more details! Stick with us!
Source: Kia