Kia at 2011 SEMA Show
Kia will exhibit several six outrageous sports-themed vehicles in Las Vegas at the 2011 SEMA Show.
This year's show cars were inspired by Kia's growing sports marketing portfolio that includes basketball, women's golf, motor sports and more.  Two were built by the world famous West Coast Customs with additional vehicles conceived and built in-partnership with the popular lifestyle magazine, Antenna, as well as GoGoGear.com and Kia's U.S. racing partner, Kinetic Motorsports.
"Kia is experiencing unprecedented growth and momentum and we're bringing our most exciting range of show cars ever to this year's SEMA Show, including several variations on the stylish all-new 2012 Rio 5-door and the fuel-efficient and technology-laden Optima Hybrid," commented Michael Sprague, Vice President, Marketing & Communications, Kia Motors America.
"Our involvement in the world of sports has dramatically increased awareness and perception of the Kia brand, and together with some high-profile partners we have created a line-up of fun and eye-catching vehicles with unique back stories and plenty of personality.", he added.
"Slam Dunk" Blake Griffin Optima Hybrid is created by West Coast Customs (WCC). They have created a basketball-themed Optima Hybrid that adds some hardwood flair to Kia's first-ever hybrid in the U.S.
"Hole-In-One" Michelle Wie Soul is also built by West Coast Customs. It was inspired by Michelle Wie, Kia's official golf ambassador and one of the most recognisable young athletes around the world.
"Retro Surf" Rio 5-Door is developed by Kia and Antenna. It features lowered and modified suspension set-up for sportier handling, and the aggressive exterior stance is accentuated by eye-grabbing 17" three-piece gold wheels.
"Hat Trick" Forte 5-Door is created by Antenna. The Hat Trick Forte 5-door can handle it all with a custom hockey stick holder that stretches from the trunk through the center of the vehicle into the cabin.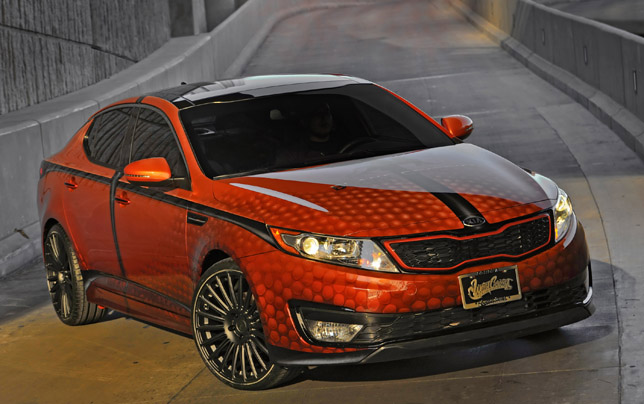 Source: Kia