2012 KIA Picanto 3-door
KIA will hit the market with the new 2012 Picanto 3-door joining the line-up for the first time since the model appeared in 2004. The small city car will also come with several new trim levels, and CO2 emissions from 99g/km - VED and Congestion Charge exempt.
Still, both 5-door and 3-door versions are identical in order to ensure the same levels of interior space and crash safety. However, the new 3-door model boasts bigger grille, restyled front bumper with large black-bezelled foglamps with the two upper trim grades. The rear bumper has a rectangular black central section in place of body colour.
2012 Kia Picanto 3-door will be offered in four trim levels - 1, 1 Air, Halo and Equinox
The engine range includes brand-new 1.0-liter with 68BHP and 95Nm of torque. The bigger 1.25-litre has 84BHP and 121Nm of torque. The average fuel consumption is 60.1mpg. With a 4-speed automatic gerbox - 53.3mpg and the EcoDynamics version returns 65.7mpg.
All versions have electronic stability control (ESC), anti-lock brakes (ABS), electronic brake-force distribution (EBD) to apportion stopping effort to the wheels with most traction, and emergency brake assist system (BAS), ensuring maximum stopping power regardless of the pressure applied to the pedal by the driver.
2012 Kia Picanto 3-door goes on sale on September 1st and it is priced at £7 795 OTR for the entry-level version.
Check out the price list, below!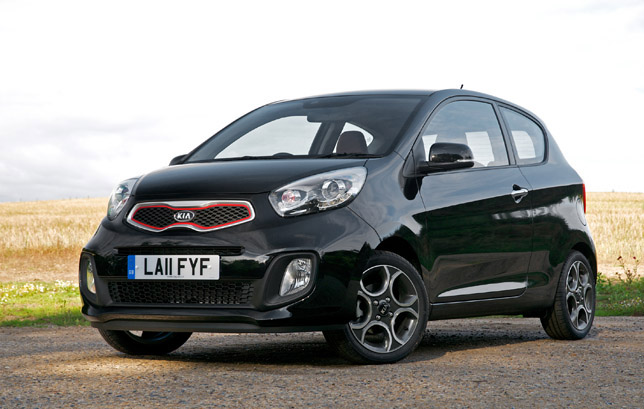 | | | | | |
| --- | --- | --- | --- | --- |
| Variant | Power (BHP) | Torque (lb-ft) | Combined mpg | Price OTR |
| 1.0 '1' | 68 at 6200RPM | 70 at 3500RPM | 67.3 | £7 795 |
| 1.0 '1 Air' | 68 at 6200RPM | 70 at 3500RPM | 67.3 | £8 395 |
| 1.25 'Halo' EcoDynamics | 84 at 6000RPM | 89 at 4000RPM | 65.7 | £11 695 |
| 1.25 'Halo' Auto | 84 at 6000RPM | 89 at 4000RPM | 53.3 | £12 295 |
| 1.25 Equinox | 84 at 6000RPM | 89 at 4000RPM | 60.1 | £11 695 |
Source: KIA