2012 Kia RAY EV
Kia Motors is proud to introduce today Korea's first electric vehicle today - the brand new Kia Ray EV! This zero-emissions city car has lively performance and a range of up to 139 km (86 miles) on a single charge. The vehicle is produced exclusively for the Korean market. The new electric car is a close relative of Kia's 1.0-liter gasoline powered Ray CUV, which went on sale in Korea last month. The front-wheel drive Ray EV is powered by a 50kW electric motor and a high-capacity 16.4 kWh lithium ion polymer battery pack that is engineered for a 10-year life cycle and skillfully packaged under the rear seat and cabin floor. The electric motor ensures responsive performance with torque of 167 Nm (123 lb-ft) (an increase of 77%). Furthermore the acceleration from 0-100 km/h of this model is 15.9 seconds, while top speed is 130 km/h (81 mph). If you buy this car you will need six hours of recharging time and you have to use a 220V household supply. But if you are in a hurry, then there is a fast-charge mode, which requires only 25 minutes.
Furthermore the Ray EV's automatic transmission offers the driver a choice of two modes while in 'D' drive. Namely they are 'E' (or 'eco') mode, which optimizes the delivery of the motor's torque to achieve minimum battery consumption and maximum driving range; and the 'B' (or 'brake') mode - which can be selected when driving downhill on highways and on mountain roads to maximize braking power.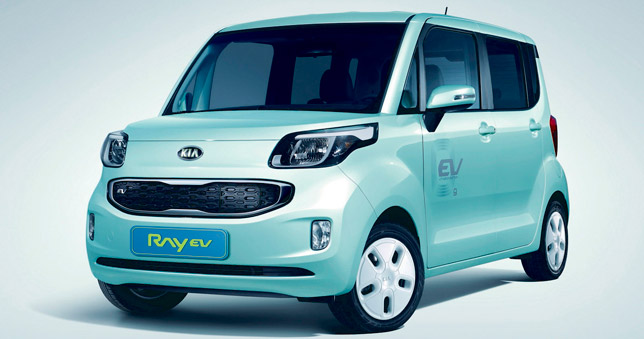 The exterior of Kia Ray EV looks very similar to Ray CUV, with the following differences: a flap in the front radiator grille which covers an electricity inlet for a 220V supply for the slow recharge mode; another inlet (for the fast recharge mode) fitted in the same location as the fuel intake of the regular models; special 'Zero Emissions EV' decals on each front door; super-smooth 14-inch alloy wheels which improve aerodynamic performance by minimizing drag. On the other hand the interior of the new electric vehicle includes a unique instrument cluster, displaying electric motor operation, battery status and distance to recharge. It is also equipped with the first-ever EV-specific navigation system. This system features a 7-inch screen and provides important information for EV drivers. For example, it can show the nearest locations of the slow/fast recharging stations. Moreover the display shows a circular shaped area in which the model can travel with its current level of battery power, so that drivers can see which destinations are reachable without a recharge. In Korea there are 500 slow/fast recharge stations, but the government is taking steps to increase this number to 3100 by the end of 2012.
In addition there are further innovations included in the design of this car. Firstly the electric motor achieves 93% efficiency, which is the best in its segment! Secondly, the lithium ion polymer battery's cell is optimized and highly integrated, which has enabled its weight to be reduced by 13% and its energy density to be increased by 15% compared to competitors' systems. Next, the on-board charger, current inverter, high-low voltage converter and EV-specific VCU (vehicle control unit) feature advances over previous equipment. Moreover Ray EV is also equipped with a new type of regenerative braking system. This unique system features an Active Hydraulic Booster that utilizes the electric motor, instead of the gasoline engine in the regular model. The goal is to create hydraulic pressure for the brake system.  Hence, the result is consistent brake pedal force throughout a wide variety of driving conditions and the ability to harvest excess energy and use it to recharge the car's battery. Unlike regular gasoline vehicles, Ray EV makes no engine noise. Therefore to prevent accidents, Kia has fitted Ray EV with a VESS (Virtual Engine Sound System). When driven at speeds below 20 km/h (12 mph) this system delivers a sound of recorded gasoline engine noises, which are also produced whenever the car is backing up.
Kia has thought for the safety and security of the passenger and the driver too. This has been achieved with six air-bags and electronic stability features – VDC (Vehicle Dynamics Control) and HAC (Hill Assist Control, to prevent roll-back) coming as a standard.
Furthermore Kia is planning to manufacture 2,500 units of the Ray EV in the forthcoming 2012. Firstly they will be provided to government departments and public offices as part of Kia's long-term real-world research and development program to provide environmentally friendly transport to Kia customers around the world during the next decade.
Kia Ray EV - Technical Specifications DIMENSIONS Length               3593 mm     Width              1595 mm Height               1700 mm     Wheelbase     2520 mm Kerb weight     1185 kg POWERTRAIN Electric motor     50 kW Max power          68 ps         Max torque     167 Nm (17.0 g/km) BATTERY Power                   330V Lithium ion polymer Capacity               16.4 kWh Charge time         6.0 hrs (slow) / 25 minutes (fast)
PERFORMANCE 0-to-100 kph     15.9 sec (to 62 mph) Max speed          130 kph (81 mph) Max range          139 km (86 miles)
Source: KIA