2012 Lancia Thema and Voyager Accessories
The exclusive accessories of the new Thema and Voyager models are now available. They made their debute at the recent Bologna Motor Show. Created by the Fiat Group Automobiles Parts & Service sector in collaboration with Lancia brand, the products are gathered in two Lancia Lineaccessori catalogues, which available online.
At the Bologna show the public had the opportunity to see a huge range of products offered to customers both at the time they purchase a new vehicle and in the later stages to personalise it with special services and accessories. Furthermore the 2011 Motor Show was the best place for introducing the addition of the Thema and Voyager Owner Handbooks to the "Lancia Everywhere Mobile" service. This application is now available for iPhone, and will also become operational on the Android platform soon.
The two new Lineaccessori are grouped in three different categories - Design, Leisure and Comfort. They harmoniously match up with the "first global flagship" and are in full compliance with their technical, stylistic and mechanical features.  The goal is to exalt the winning characteristics of the Thema and to make it a technological perfection combined with Italian Style. To be more precise, the design of the new Lancia Thema can be customised with several products. For example there are 18" and 20" rims and three grilles which are present in different colours and treatments. A highlight here is that the Thema is the only car of its class in Europe which offers the latter feature. At the same time Lancia flagship driver can choose several accessories for his leisure time such as roof rack bars, bicycle racks and the summer box.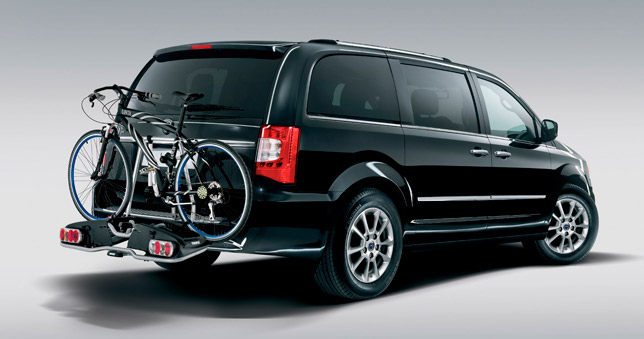 The benchmark in the segment of large MPVs hiowever is the new Lancia Voyager. It has an impressive size matched by a spacious, refined passenger compartment made from high quality materials. In order to satisfy every individual taste, Lineaccessori offers accesories that emphasize both the elegant design and the ability to enjoy leisure time to the utmost. For instcance there are the 17" rims, chrome-plated running board and side footboard. Furthermore there is available a brand new product in the segment: an exclusive tent (3x3 metres) that connects with the open tailgate. In addition if the seats of the second and third rows are folded down, the total interior space (tent + passenger compartment) is extraordinary, totalling about 13,000 litres. Of course, the tent can be utilized apart from the vehicle. Eventually, in terms of Comfort and Safety, the Lineaccessori of both models offers a full range of baby one and junior child seats. Moreover there are the additional sun blinds, mats and anti-theft wheel bolts.
Source: Lancia