2012 Mercedes-Benz E 300 BlueTEC HYBRID
Today we have very special and "ecological" news from one of the most famous luxury brands. Mercedes-Benz launches hybrid offensive, starting with a world's most economical luxury-class model. Mercedes-Benz is beginning a new chapter in its brand's core segment, while at the same time making new standards for luxury-class business vehicles. Firstly, there is the E 300 BlueTEC HYBRID, which will be available as a Saloon and Estate. More importantly it impresses with new record values concerning the efficiency. Its consumption levels are 4.2 l/100 km, thank to the impressive performance of the 4-cylinder diesel engine. The engine has 150 kW (204 hp) and 500 Nm (369 lb-ft). In addition it works along with an electric motor producing 20 kW and 250 Nm. Hence this results in a coherent overall concept: the E 300 BlueTEC HYBRID - the most economical luxury-class vehicle in the world!
On the other hand the V6-cylinder petrol engine in the E 400 HYBRID produces 225 kW (306 hp) and 370 Nm (273 lb-ft). Additionally it is enhanced by a further 20 kW and 250 Nm from the electric motor. The consumption figures based on the American CAFE standard are: City 24 mpg, Highway 31 mpg, Combined 27 mpg.
As usual and having in mind that the new vehicles are Mercedes-Benz brand, they offer great comfort for both passengers and driver. There is enough space in terms of the interior or luggage compartment. Moreover there are additional benefits to the intelligent modular hybrid concept, which represents a comprehensive enhancement of the Mercedes-Benz S 400 HYBRID. It has advanced to the position of clear market leader since 2009. In this hybrid model no changes to the vehicle body are required, and the hybrid module is both flexible and modular. Hence, this allows its use in other model series, and in addition to diesel and petrol variants there will also be right-hand drive variants.
The new hybrid models debut at the Detroit Motor Show, which will take place between 14th and 22d of January 2012. Their appearance on the market will be over the course of the year. An important detail here is that the E 300 BlueTEC HYBRID is initially planned to be launched on the European market, while the E 400 HYBRID will be made available on the American market first, followed by other countries such as Japan and China later.
E 300 BlueTEC HYBRID at a glance:
Compact, intelligent and modular hybrid concept: no changes to the body of the base vehicle are necessary
Also available as an Estate
Space, safety and comfort remain unchanged
No compromises in terms of space, safety and comfort
Significant increase in comfort with start/stop operation; noiseless start, complete climatic comfort
Top marks for consumption in the luxury-class business vehicle segment: 4.2 litres/100 km, 109 g CO2/km
Part of the intelligent downsizing strategy of Mercedes-Benz: increase in the engine output of the E 300 BlueTEC HYBRID with 150 kW + 20 kW electric motor/500 Nm + 250 Nm, compared with the E 250 CDI (150 kW/500 Nm), positioning it at the same level as the E 300 CDI (170 kW/540 Nm)
Fuel savings of around 15 percent compared with the E 250 CDI – even in actual road traffic conditions
Impressive hybrid driving experience (start/stop function, regenerative braking, boost effect, purely electric motoring and "sailing" function)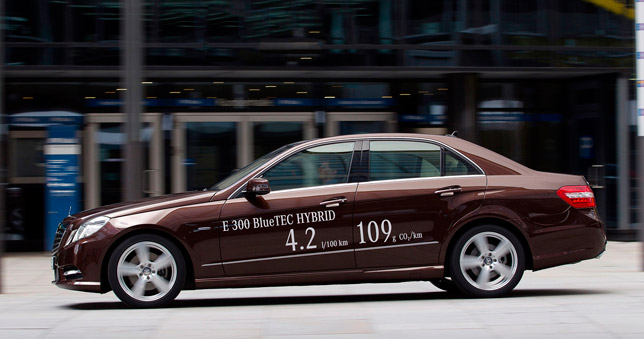 E 400 HYBRID at a glance:
Compact, intelligent and modular hybrid concept: no changes to the body of the base vehicle are necessary
No compromises in terms of space, safety and comfort
Significant increase in comfort with start/stop operation; noiseless start, complete climatic comfort
Consumption combined (CAFE): 27 mpg
Part of the intelligent downsizing strategy of Mercedes-Benz: increase in the engine output of the E 400 HYBRID by some 20 kW and 250 Nm thanks to the electric motor
Impressive hybrid driving experience (start/stop function, regenerative braking, boost effect, purely electric motoring and "sailing" function)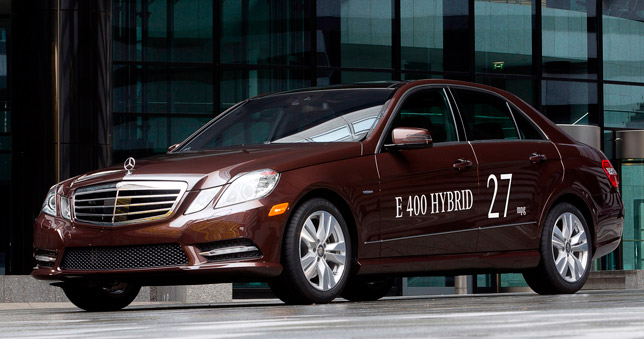 Source: Mercedes-Benz