2012 Mercedes-Benz E 300 BlueTEC HYBRID shows impressive efficiency without compromises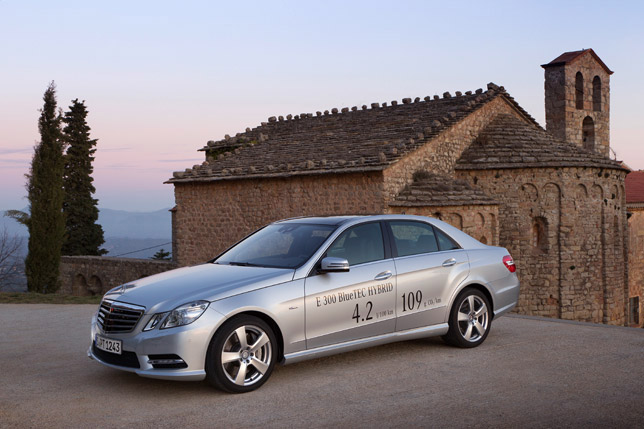 Mercedes-Benz is continuing its hybrid philosophy with the all new 2012 Mercedes-Benz E 300 BlueTEC HYBRID model. In fact, this is the world's most economical luxury-class vehicle with a fuel consumption of just 4.2 l of diesel/100 km, and CO2 emmissions of 109 g/km. At the same time, efficiency champions such as the SLK 250 CDI, S 250 CDI, ML 250 BlueTEC 4MATIC and SL 350 BlueEFFICIENCY are showing that luxury brand aims to tale a leading role in the continuous improvement of vehicles with internal combustion engines in all classes. What bindes all these environmentalfriendly vehciles is their impressive efficiency without compromises.
These premium automobiles from Mercedes-Benz, which are not only economical but also environmentaly compatible, has all the necessaryattributes of a true Mercedes: safety, comfort and serene driving enjoyment. Further to the highly efficient internal combustion engines, add the hybrid drive systems, which are currently rounding off the mix of intelligent, need-related solutions for environmentalfriendly vehicles. The new 2012 Mercedes-Benz E 300 BlueTEC HYBRID is setting new standards for luxury-class business cars. This diesel hybrid will be available in the European market as a Saloon and Estate in the end of the year. Later the E 400 HYBRID powered by an electric motor and a V6 petrol engine will be launched in the American, Japanese and Chinese market.
Furthermore the intelligent, modular hybrid concept has a major advantage: no modifications to the bodyshell are required. In addition to that the hybrid module can be used flexibly in other model series and there will be right-hand drive versions apart from the diesel and petrol models.
What has to be highlighted here is that the vehicle has all the necessary equipment and functions for a hybrid – starting from the ECO start/stop function right up to the purely electrically driveable hybrid. This means that this model is undoubdtedly on its way to the sustainable mobility of the future. Moreover, Mercedes-Benz is also aims to optimize its vehicles with the very latest internal combustion engines: by downsizing, charging, direct injection, low-friction technology and BlueTEC. In addition to that the vehicles themselves are undergoing targeted optimisation with respect to aerodynamics, lightweight construction and energy management (BlueEFFICIENCY).
The 2012 Mercedes-Benz E 300 BlueTEC HYBRID not only delivers best-in-class luxury, but also combines it with outstanding fuel economy of the 4‑cylinder diesel engine over long distances. The reasons are several, but in short - it benefits of an efficient hybrid in city and stop & go traffic. Hence, it delivers impressive efficiency with no compromises. And not forgetting that thank to the compact hybrid concept there are no restrictions in terms of spaciousness, comfort and safety.
What is more important here is the technology used in the E 300 BlueTEC HYBRID. Mercedes-Benz has combined the 2.2-litre four-cylinder diesel engine, which develops 150 kW (204 hp) with a powerful hybrid module. The latter has a 15 kW electric motor, positioned between the internal combustion engine and the 7-speed automatic transmission, and assists the diesel engine when the car is accelerating (boost effect). In alternator mode, it is used for the recuperation of braking energy, although it is also suitable for driving under electric power alone. In summary, it is based on the modular hybrid principle developed by Mercedes-Benz. And the figures a worth mentioning again: the fuel consumption of the E 300 BlueTEC HYBRID is 4.2 litres per 100 kilometres with CO2 emissions of 109 g/km.
Next, in combination with 7G-TRONIC, a wet start-up clutch and the lithium-ion battery, the intelligent modular hybrid system requires little installation space and weighs around 100 kg. Of course, the hybrid components have all the features of the extensive "7-stage safety concept".
The brand also aims to deliver fuel efficiency and environmental "attitude" to some of its iconic models. Across all the model series Mercedes-Benz offers powerful yet economical petrol and diesel models. They feature turbocharging and direct injection for enhanced performance but lower fuel consumption and CO2 emissions. What is more here is that these vehicles are very suitable for markets with CO2-based vehicle taxation, or for company and fleet customers.
Characteristics of the efficiency champions in brief:
Mercedes-Benz SLK 250 CDI: torque at the level of a V8 muscle-car, the fuel consumption of a compact. The world's most economical (4.9 l/100 km) and powerful (150 kW/500 Nm) diesel roadster.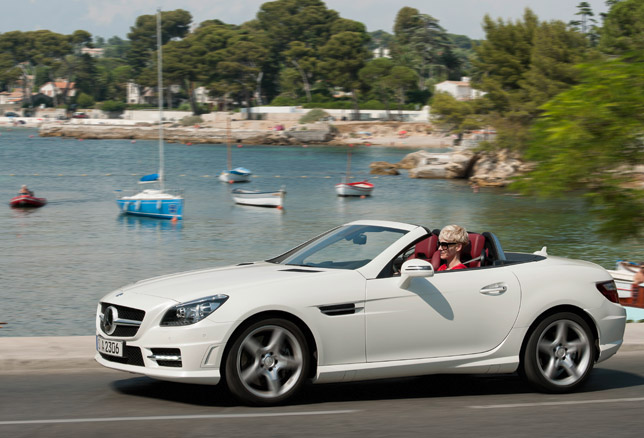 Mercedes-Benz S 250 CDI: the "five litres per 100 km S-Class" with serene long-distance comfort.
Mercedes-Benz ML 250 BlueTEC 4MATIC: full-size SUV with full on and off-road performance, a consumption of around six litres per 100 km and CO2 emissions of 158 g /km.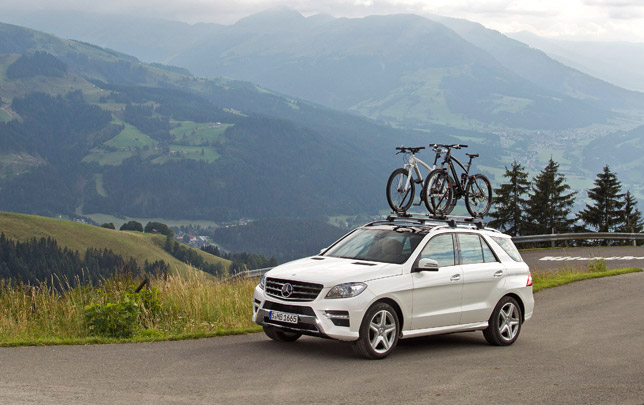 Mercedes-Benz SL 350 BlueEFFICIENCY: consumes 29 percent less fuel than the preceding model, mainly thanks to a BlueDIRECT engine, intelligent lightweight construction (- 140 kg) and outstanding aerodynamics.
Source: Mercedes-Benz