Mercedes-Benz S 500 HYBRID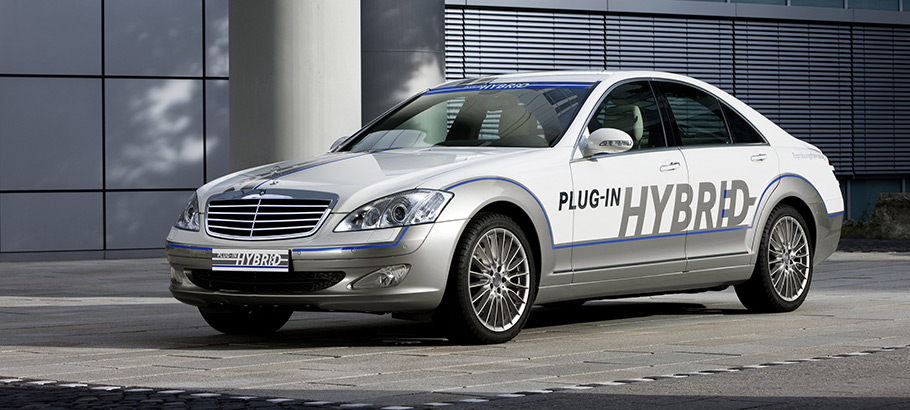 Recently, Mercedes-Benz hit the market with their S 400 Hybrid, which is very successful and most fuel-efficient car in its class. Now they will present the new S 500 Hybrid at IAA Frankfurt.
The Vision S 500 Plug-in HYBRID can drive for up to 30 kilometres solely on electricity and therefore without producing any local emissions. The car has all strengths of a typical S-class: unique comfort, extraordinary safety and good performance.
The drive system in the concept car consists of three main components: a powerful V6 3.5 litre petrol engine with a next-generation direct injection system, a 44 kW/60 hp hybrid module and a lithium-ion battery with more than 10 kWh of storage capacity that can be recharged at charging stations.
The fuel consumption is unbelievable for such a big car. Only 3.2l/100km and emissions as low as 74g/km of CO2.
The Vision S 500 Plug-in HYBRID accelerates from 0 to 100 km/h in 5.5 seconds.
Mercedes-Benz are planning to put their Hybrid system in the diesel versions, which will be a milestone in car engineering.
Vision S 500 Plug-in HYBRID - Technical data
| | |
| --- | --- |
| Combustion engine (petrol) | |
| No. of cylinders/arrangement: | V6, 4 valves per cylinder |
| Displacement: | 3.5 l |
| | |
| Hybrid module | |
| Type: | Permanently excited synchronous machine |
| Rated output: | approx. 44 kW/60 PS |
| Rated torque: | 250 Nm |
| | |
| Performance and fuel consumption | |
| Acceleration 0 - 100 km/h: | 5.5 s* |
| Top speed: | 250 km/h |
| Fuel consumption: | 3.2 l/100 km (combined)* |
| CO2 emissions: | 74 g/km (combined): |
| | |
| *preliminary values | |