2012 Nissan GT-R
Here is a little, but important lesson: How to improve perfection? It is not so simply, because firstly you need 2011 Nissan GT-R, then you'll have to add some more horsepower and torque, after that you have to set-up the chassis and transmission, and finally to add some more comfort inside the vehicle. The result is 2012 MY GT-R.
2012 Nissan GT-R is powered by the famous 3.8-liter twin-turbo V6, which now delivers 550PS (404 kW) at 6400RPM and 652Nm (483 lb-ft) at just 3200RPM.
Engine response and torque at mid and low-speeds, and power at high revolutions, has been significantly improved, mainly due to:
Improved intake efficiency
Better air flow resistance, which has been reduced by the addition of an intake manifold fitted to the head of each unit and the use of resin in the enlarged air intake duct for the intercooler.
Improved exhaust emissions efficiency and enhanced control.
Reduced air flow resistance thanks to a more compact under floor catalyser which improves emissions efficiency and reduces weight.
Improved exhaust valve cooling performance by the adoption of a newly-designed metallic sodium-filled valve. At the same time, valve control timing, the air mixture ratio and ignition timing have been improved.
The gearbox received better shift fork arm and a firmer fixing bearing for the flywheel housing. A special differential oil R35 COMPETITION Type 2189E (75W140), which was developed for competition is now used in every version of GT-R.
The body has also received some modifications - reinforcing of certain areas and improved inter-vehicle detection capability. This was achieved by changes in the positioning of the sensor and more rigid, highly-damped vehicle body, and by adding a more accurate acceleration sensor in areas with higher sensitivity in the vibration testing of each vehicle body.
More power needs better suspension with improved responsiveness, smoothness and steering feel, as well as enhanced cornering stability and riding comfort.
Inside, 2012 GT-R has blue lighting inside the tachometer ring to match the shift position indicator light, Rear View Camera device (standard) and Bose sound system woofers.
With the latest 2012MY version, the legend that is the Nissan GT-R continues to evolve.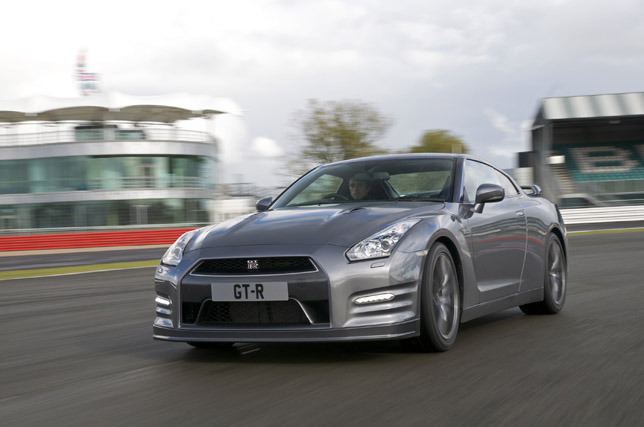 Source: Nissan