2012 Renault Fluence ZE
Renault has recently introduced Fluence Z.E. and Kangoo Van Z.E, which are a historic turning point. In the near future, this form of power will see the development of a range of vehicles that deliver a holistic gain in terms of respect for the environment.
Fluence ZE was firstly unveiled as a concept car at the Frankfurt Motor Show in September 2009 and now the car is available to buy at decent price. It is aimed at private customers and fleet operators looking for a four-door saloon which is both economical and more respectful of the environment.
2012 Renault Fluence ZE is powered by a synchronous electric motor with rotor coil – 95PS ( 70kW) at 3 000RPM and 226Nm (167 lb-ft) of torque, which is available immediately. Having maximum torque available every time you press the throttle guarantees a safe and enjoyable drive. It's a unique, astonishing feeling, and perfectly suited to today's mobility needs and driving challenges. You no longer need to shift gear, either; you just concentrate on the road ahead.
The car features electronic driving aids – ABS and ESC, which have been recalibrated to match the different weight distribution resulting from the addition of the battery. Fluence Z.E. is extensively equipped for its segment, with safety features including double seat belt pretensioners and six airbags as standard.
The combined cycle of the vehicle is 115 miles, which is more than 178 km. Some 87% of daily journeys involve driving less than 60km (37 miles), so the range is more than satisfying. However, in extreme conditions - combining severe weather, a sporty driving style, hilly terrain, range can fall to around 50 miles.
So, Fluence ZE is a perfect city car for everyday use and if you don't need a stylish Mercedes or sporty BMW to go to work, this may be your next car.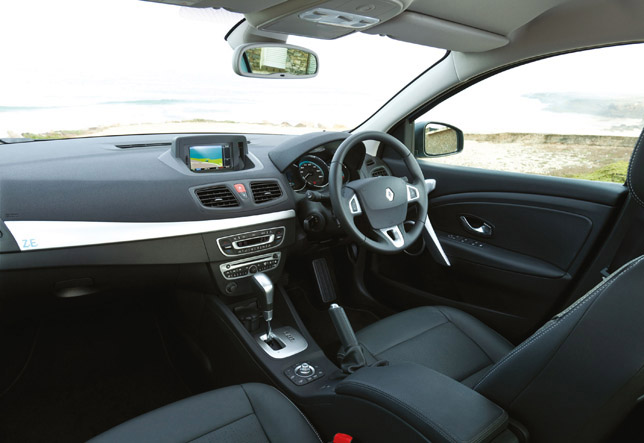 Summary of purchase and battery hire prices
Fluence Z.E. Prime Time      £22,850 on the road
Less PiGC          £5,000
Net price           £17,850
Monthly battery hire (3 years, 9,000 miles per annum)     £81.00
Source: Renault