2012 Toyota Hilux
Toyota has unveiled the new 2012 Hilux facelift. The model is one of the best-selling trucks with 21 866 units in 2010, representing almost 25% of the market share. This makes the Toyota pick-up the segment sales leader for the third consecutive year.
2012 Toyota Hilux boasts a new bonnet, radiator grille, headlamps and front bumper. The vehicle profile is further enhanced by newly designed front and rear wings, redesigned 15" and 17" steel and alloy wheels, and new door mirrors.
The interior features Toyota Touch, a 6.1", full colour, touch screen multimedia unit. There are also a new instrument cluster, darker finishes with a greater colour consistency throughout the interior, and the addition of silver ornamentation.
2012 Toyota Hilux is available in four grades: DLX, the new DLX+, SR and SR+.
The brand new DLX+ grade is available with 2WD or 4WD 2.5 D-4D powertrains mated to a manual gearbox in Single Cab, Extra Cab and Double Cab body styles, and with a 4WD 3.0 D-4D powertrain and manual transmission as a Double Cab only.
The engine range includes an upgraded 2.5-liter D-4D with 144 PS (106 kW) and 343Nm (253 lb-ft). It achieves 7.3 L/100 km and CO2 emissions of 193 g/km. There is also a 3.0 liter D-4D, which now features diesel particulate filter, so it complies with EURO 5 regulations.
Produced at Toyota Motor Thailand and Toyota South Africa Motors, the Hilux 2012 will be available in 36 European countries, and more than 135 throughout the world.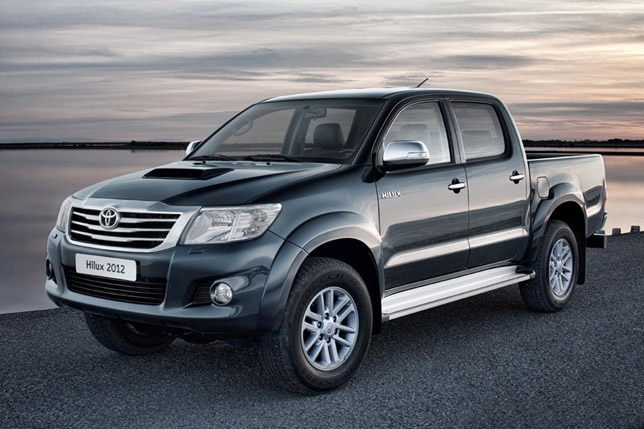 Source: Toyota