2012 Toyota Prius in Australia
In a bid to attract even more buyers, Toyota have turned up, in Australia, with a bag of updates for the 2012 Prius. It now has a new face, some extra equipment, its suspension has been tweaked and is cheaper than ever.
Visually, the front lower end sees a new bumper and a larger, trapezoidal lower grille. LED daytime running lights find their place right beneath the indicators within the bumper while the fog lights have moved on the sides of the lower grille. Elsewhere, one would find that the taillight cluster has been changed, the mirrors are now heated and power-folding. The wheels remain 15 inches (17 for the i-Tech trim) but the design is new. Overall the 2012 Prius is 20 mm longer than the previous ones but that length seems to have gone to the overhangs as the wheelbase stays the same.
Inside we get new seats and more quality upholstery, the multi-information display is now more vivid than ever and even the entry level gets a rear view camera. There are some less useful features as well - an "ECO calculator" that apparently allows you to do math and estimate how much money you are dreadfully spending on fuel. Wasn't it the whole purpose of buying a Prius to set yourself free from consumption worries? Why would I want to preoccupy my mind with that? Anyway, Toyota have also added a HUD readout on the screen and a touch pad sort of thing on the steering wheel so that you, or anyone else who might be driving, can remain focused on the road. In case you get lost however you can always refer to the HDD navigation system (i-Tech again). Other standard safety features include seven airbags, stability and traction control, active front head restraints and anti-skid brakes.
Sounds unimaginable when talking about a Prius, but, assuming you won't be always driving around in ECO mode, performance and comfort may actually benefit from a now stiffer, better welded together body. The improve rigidity allows the installment of a softer and kinder suspension.
Underneath it all hides a hybrid system as usual – 100 kW of combined power coming from an 1.8-liter Atkinson cycle petrol unit and a 650-volt electric motor/generator powered by a 201.6-volt nickel-metal hydride battery pack. In return you get 89 g/km of CO2 emissions and 3.9 liters per 100 km of fuel economy. In EV mode, the Prius is capable of covering road stretches of 1-2 km solely on a battery charge.
For the whole package, you have to pay $33,990 – almost $6000 less than the price of the first ever Prius. The i-Teck on the other hand, sticks to its price tag - $45,990. What do you think? A good buy? 17,000 in Australia alone seem to approve.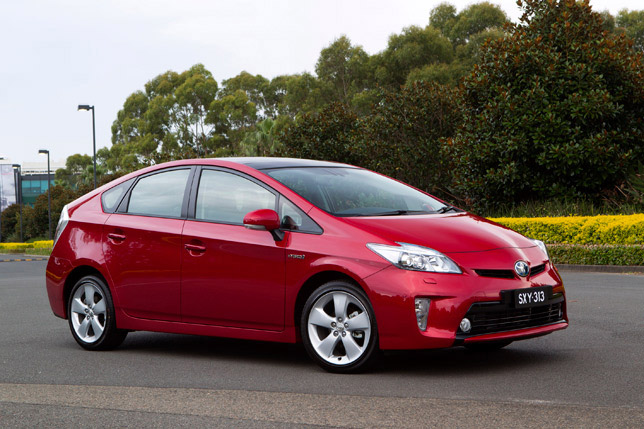 Source: Toyota