2012 Vauxhall Mokka Tech Line SUV - Specifications and Pricing
2012 Vauxhall Mokka has already got an announced pricing but still will enrich its trim line with the Tech Line trim level.
Mokka Tech Line will deliver its drivers exceptional levels of standard specifications and comfort. The Mokka comes with very generous levels of standard equipment, which include: Navi 600 satellite navigation system, DMB (Digital Media Broadcast) radio, Bluetooth and USB connectivity, 18 inch alloy wheels, cruise control, air conditioning, Descent Control System, aux-in and a multi-function trip computer.
The engine choices included here range in power from 115 hp (85 kW) to 140 hp (103 kW). First, the 1.6-litre petrol produces 115 hp (85 kW) and 155Nm (114 lb-ft) of torque. The second one – the 140 hp (103 kW) 1.4-litre turbo is the Mokka's most powerful petrol engine and comes with a standard four-wheel drive.
In the Mokka segment are included two diesel models, both of which utilize Vauxhall's 1.7 CDTi 130 hp (96 kW) engine, with CO2 emissions as low as 124g/km. They are both in front-wheel drive form and their engine can be mated to a six-speed manual or six-speed automatic transmission, whereas the all-wheel drive the comes with the six-speed manual only. All manual models have Vauxhall's fuel-saving Start/Stop system which comes as a standard.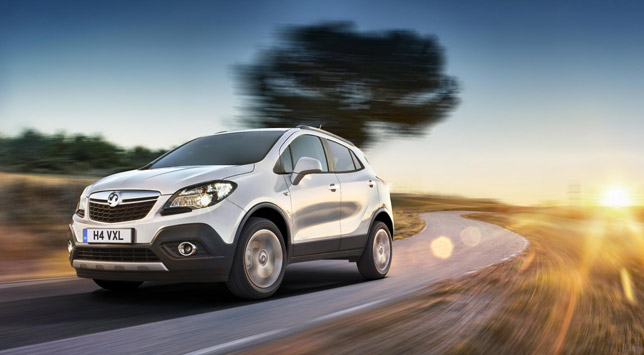 A variety of state-of-the-art driver-assistance systems will be included in the vehicle. For instance such are Vauxhall Front Camera, Lane Departure Warning, Traffic Sign Recognition, Forward Collision Alert, as well as a rear-view camera, park-assist sensors front and rear.
As a standard there are many safety systems include as well: Electronic Stability Control, Traction Control, Hill Start Assist and Hill Descent Control. The latter provides drivers with reassurance, no matter if they're on or off-road.
Adding further to the safety equipment list are the Advanced Adaptive Forward Lighting (AFL+) and High Beam Assist. The latter adjusts the high beams automatically so that oncoming traffic isn't dazzled.
The exterior design of the car has powerful, muscular and attractive stance. The impression it makes is further enhanced by its higher ground clearance as well as a 1540mm track and 18-inch wheels.
The interior design of the vehicle includes 19 storage locations, 60:40 split rear seats, and an all-up load space of 1,372 litres with the rear seats folded down.
The starting price of 2012 Vauxhall Mokka Tech Line is £15 995.
2012 Vauxhall Mokka Price List
| | | | | |
| --- | --- | --- | --- | --- |
| | RRP(£) | VAT (£) | Total (£) | On-the-Road (£) |
| S | | | | |
| 1.6 16v 115PS S/S 5-spd | 13,391.67 | 2,678.33 | 16,070.00 | 16,995.00 |
| Exclusiv | | | | |
| 1.6 16v 115PS S/S 5-spd | 14,225.00 | 2,845.00 | 17,070.00 | 17,995.00 |
| 1.4 16v Turbo 140PS S/S 6-spd 4x4 | 16,091.67 | 3,218.33 | 19,310.00 | 20,200.00 |
| Diesel | | | | |
| 1.7 CDTi 130PS S/S 6-spd | 15,575.00 | 3,115.00 | 18,690.00 | 19,445.00 |
| 1.7 CDTi 130PS 6-spd Auto | 16,295.83 | 3,259.17 | 19,555.00 | 20,445.00 |
| 1.7 CDTi 130PS S/S 6-spd 4x4 | 16,762.50 | 3,352.50 | 20,115.00 | 20,990.00 |
| SE | | | | |
| 1.6 16v 115PS S/S 5-spd | 16,308.33 | 3,261.67 | 19,570.00 | 20,495.00 |
| 1.4 16v Turbo 140PS S/S 6-spd 4x4 | 18,175.00 | 3,635.00 | 21,810.00 | 22,700.00 |
| Diesel | | | | |
| 1.7 CDTi 130PS S/S 6-spd | 17,658.33 | 3,531.67 | 21,190.00 | 21,945.00 |
| 1.7 CDTi 130PS 6-spd Auto | 18,379.17 | 3,675.83 | 22,055.00 | 22,945.00 |
| 1.7 CDTi 130PS S/S 6-spd 4x4 | 18,845.83 | 3,769.17 | 22,615.00 | 23,490.00 |
2012 Vauxhall Mokka Specifications:
| | | |
| --- | --- | --- |
| | Max Speed | 0-60mph |
| 1.6 16v VVT 115PS S/S | 106 mph | 12.2 secs |
| 1.4 16v Turbo 140PS S/S 4x4 | 116 mph | 9.6 secs |
| 1.7 CDTi 130PS S/S | 116 mph | 9.6 secs |
| 1.7 CDTi 130PS Auto | 114 mph | 10.4 secs |
| 1.7 CDTi 130PS S/S 4x4 | 114 mph | 10.2 secs |
Provisional Fuel Economy (mpg) & CO2 Emissions (g/km)
| | | | | |
| --- | --- | --- | --- | --- |
| | Urban | Extra-Urban | Combined | CO2 |
| 1.6 16v VVT 115PS S/S | 32.8 | 53.3 | 43.5 | 153 |
| 1.4 16v Turbo 140PS S/S 4x4 | 34.0 | 55.4 | 44.8 | 149 |
| 1.7 CDTi 130PS S/S | 48.7 | 68.9 | 60.1 | 124 |
| 1.7 CDTi 130PS Auto | 42.2 | 60.1 | 51.4 | 144 |
| 1.7 CDTi 130PS S/S 4x4 | 45.6 | 64.2 | 55.4 | 134 |
Engine data
| | |
| --- | --- |
| 1.6 16v VVT | |
| Max. output PS: | 115 @ 6000 |
| Max. torque: | 155 Nm @ 4000 |
| Number of cylinders | 4 |
| Cubic capacity    in cm³ | 1598 |
| Bore | 79mm |
| Stroke | 81.5mm |
| Compression | 10.8:1 |
| 1.4 16v Turbo | |
| Max. output PS: | 140 @ 4900 |
| Max. torque: | 200 Nm @ 4900 |
| Number of cylinders | 4 |
| Cubic capacity    in cm³ | 1364 |
| Bore | 72.5mm |
| Stroke | 82.6mm |
| Compression | 9.5:1 |
| 1.7 CDTi 130PS | |
| Max. output PS: | 130 @ 4000 |
| Max. torque: | 300 Nm @ 2000-2500 |
| Number of cylinders | 4 |
| Cubic capacity    in cm³ | 1686 |
| Bore | 79mm |
| Stroke | 86mm |
| Compression | 16.5:1 |
| Fuel tank capacity | 54 litres |
Source: Vauxhall