2012 Vauxhall Mokka
Vauxhall has announced their new small SUV, which is expected to hit the market in the end of this year. The new Mokka will make its official debut at the Geneva Motor Show in March. The vehicle will enter the growing sub-compact SUV B-segment.
"The Mokka takes its design cues from larger SUVs and integrates them into a compact, yet modern form," commented Duncan Aldred, Vauxhall's Chairman and Managing Director.
"We are growing a compelling and diverse range of products that appeal both to retail and fleet customers, and the Mokka will complement this perfectly.", he added.
The engine range includes a 1.6 liter naturally aspirated petrol with 115PS (85 kW) and a 1.4 liter turbo petrol with 140PS (103 kW) and 200Nm (148 lb-ft). The diesel variant is a 1.7 CDTI with 130PS (96 kW) and 300Nm (221 lb-ft). Both the 1.4 Turbo and the 1.7 CDTI can be combined either with 6-speed manual or 6-speed automatic transmissions.
The new Vauxhall Mokka will be available in Front-Wheel and All-Wheel Drive . The All-Wheel Drive System ensures a high level of stability and safety, extending Mokka's capabilities to more rugged environments. When handling and traction are put to the test, the system automatically and seamlessly transfers power to the rear wheels.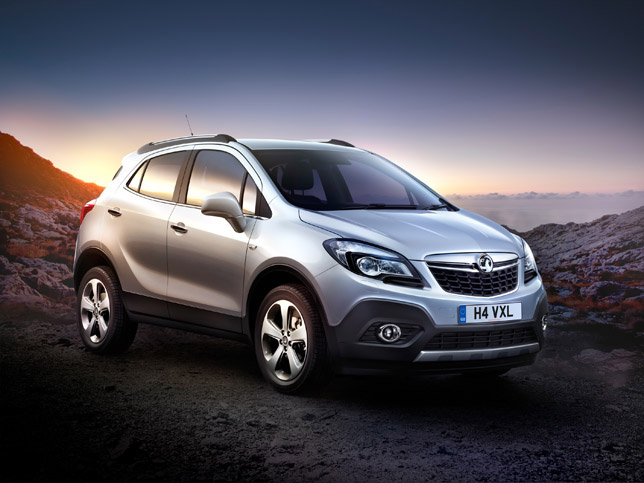 Standard features that enhance the driving experience across all models include Electronic Stability Control (ESC), Traction Control (TC) as well as Hill Start Assist (HAS) and Hill Descent Control (HDC ) systems – which improve driving comfort and safety in uphill or downhill terrain.
The Vauxhall Mokka brings cutting-edge upmarket technologies to the SUV B-segment. The Advanced Adaptive Forward Lighting (AFL+) which increases driving safety is based on the 3rd generation Bi-Xenon lighting system that includes High Beam Assist (HBA). The new generation Vauxhall front camera system is also available, giving the driver access to a number of functions including Lane Departure Warning (LDW), Forward Collision Alert (FCA) and second generation Traffic Sign Recognition.
The Mokka will be available at Vauxhall dealerships in the end of 2012.
Source: Vauxhall