2012 Volkswagen Golf VI GTI Price - £25 305
Volkswagen now offers more goodies for the latest GT, GTI, GTD or R models. From today, the leather upholstery will be offered as standard as well as Bluetooth phone preparation. This means that customers benefit from over £2 000-worth of extra value.
Luxurious black 'Vienna' leather upholstery was previously a £1,890 option, and offers more than just a fine hide seat covering.  Both passenger and driver get electrically operated lumbar support and heated seats, which should receive a warm welcome in the coming winter months.
The GT, GTI and GTD all feature sports seats with bolsters to hold occupants securely in place, while the sports seats in the Golf R have even deeper bolsters, as befits the R's extra performance.  Recaro sports seats remain an option for Golf R customers.
Bluetooth phone preparation was previously a £255 option, which integrates compatible mobile telephones with the Golf's in-car entertainment system, allowing users to access many of their phone's features using buttons on the radio or via the standard leather-trimmed multifunction steering wheel.
This upgrade is offered for just £140 on GT models, and for no extra cost on GTD, GTI and R.
2012 Golf VI GTI is powered by a 2.0 liter turbocharged four-cylinder petrol delivering 210PS (154 kW) at 5300RPM and 280Nm (207 lb-ft) at just 1700RPM. 0 to 100 km/h in just 6.7 seconds and a top speed of 240 km/h (149 mph)
The price list starts from just £21 310 for 2012 Volkswagen Golf VI GT. The GTD model costs £24 635 and the GTI is a bit pricy £25 305.
However, if you want the top-of range Golf VI R, you'll have to pay £31 420.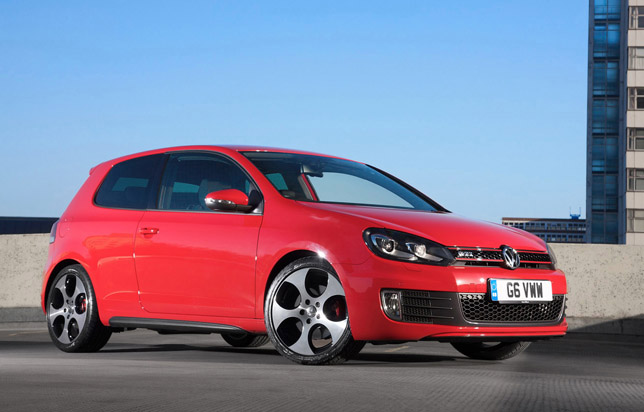 Source: Volkswagen