2013 Ford F-150 King Ranch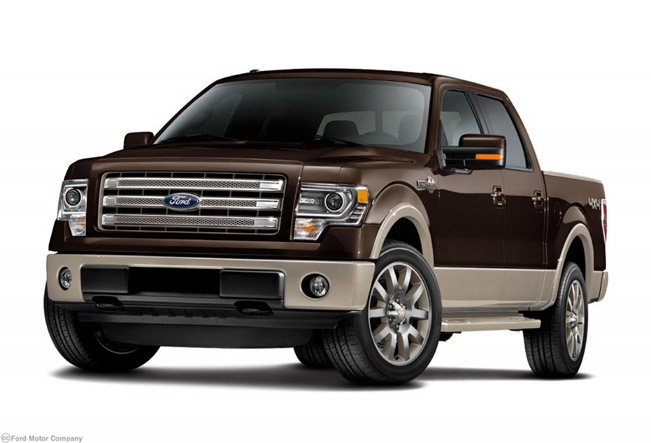 Ford has announced the new 2013 F-150 King Ranch at the State Fair of Texas Auto Show. The pick-up truck comes with more luxury, technology and capability than ever before. In fact, it boasts "S-class" luxury in pick-up variant.
"While others are just starting to understand the appeal of Texas innovation and luxury, we're proud to have worked with our longtime partners at King Ranch who helped define both," said Ford General Marketing Manager Dave Mondragon.
"The latest F-150 King Ranch extends this honor and tradition.", he added.
The exterior highlights include a thee-bar grille and special badging. There is also a monotone exterior, a chrome package and a set of big 20" alloy wheels fitted with proper tires for the vehicle.
The interior is sensational - the seats are wrapped in rich, timeless Chaparral leather. An all-new black interior environment is available (in addition to traditional Adobe), plus smart technology like standard MyFord Touch® optimized for truck owners, standard ambient interior lighting and available class-exclusive HID headlamps.
The truck is powered by a 3.5-liter EcoBoost V6 with 365HP (272 kW) and 569Nm (420 lb-ft) of torque. There is a less powerful variant coming with a 5.0 liter V8 with 360HP (268 kW) and 515Nm (380 lb-ft).
King Ranch covers more than 1,300 square miles of Texas land, making it one of the largest ranches in the world.
The 2013 F-150 King Ranch is one of 10 updated models in the F-Series lineup that includes changes to XL, XLT, Lariat, Platinum, SVT Raptor and the introduction of the all-new F-150 Limited.
Source: Ford