2013 Ford Focus ST with Factory Overboost Turbo Engine
Ford has introduced the new 2013 Focus ST equipped with a turbo overboost feature increasing the power output. The car will also have tuned turbo to decrease response time and increase power throughout rev range.
The factory overboost will extend the torque curve from 3 000RPM to 4 500RPM for up to 15 seconds. This means not only more power, but better driving pleasure.
Originally, the Focus ST produces 250HP (184 kW) and 360Nm (265 lb-ft) of torque from its turbocharged 2.0-liter EcoBoost engine, but with the Factory Overboost, the engine will deliver 255HP (188 kW) and 366Nm (270 lb-ft). This represents more than 7% more output.
"The turbo itself is specified for sustained, high-output performance, but they've programmed the car's computer to dial in more boost past 3,000 rpm to give it that extra something," commented engineer Lisa Schoder, who is Marketing manager for Focus ST.
"We limit peak turbo boost to maintain a wide margin of safety and durability over the life of the car. But overboost is cool in that it tweaks more acceleration through the turbo for brief periods for performance-hungry drivers.", he added.
Among the more visible options will be the Tangerine Scream metallic color that will be offered exclusively on Focus ST, as well as race-inspired Recaro seats with matching color accents.
Ford is offering drivers who preorder a Focus ST the GoPro® HD Hero2 Motorsports Edition camera pack upon delivery. The first 1 000 presale orders placed between May 1 and Aug. 20 are eligible for the GoPro HD Hero2 camera. The cameras will be sent after vehicle delivery.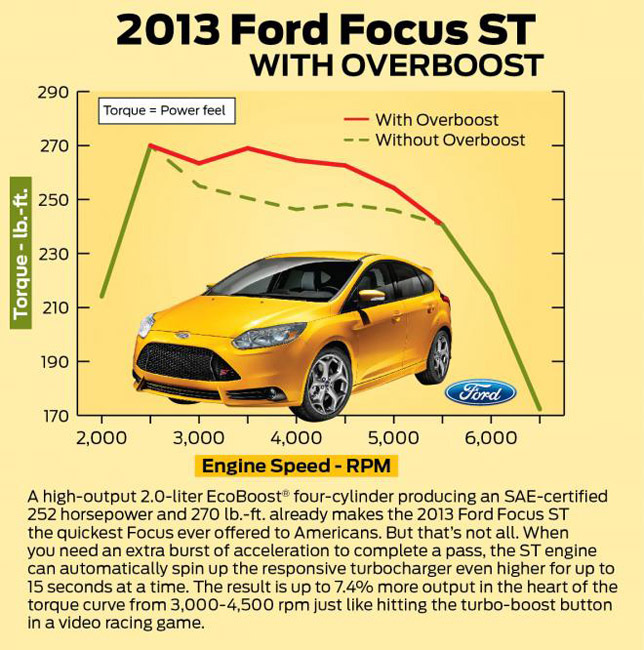 2013 Ford Focus ST Pricing:
| | | |
| --- | --- | --- |
| New Focus ST £21,995 | New Focus ST-2  £23,495 | New Focus ST-3 £25,495 |
| 18in alloy wheels | As ST, plus: | As ST-2, plus: |
| Recaro Cloth seats | Partial Leather trim | Leather trim |
| Manual A/C | DEATC | Heated front seats |
| Keyless start | Sony Radio | Bi-Xenon headlamps |
| Thatcham alarm | Rain sensitive wipers | LED DRLs |
| DAB radio | Auto Headlights | Keyless entry |
| Bluetooth | Self-dimming mirror | Power fold mirrors |
| USB | Quickclear | |
| | ST Floor mats | |
Source: Ford