2013 Hyundai Veloster Starting from $17,450
The massively popular Hyundai Veloster hits the US showrooms with a 2013 model year that's pretty well priced – $17,450 for the 1.6 GDI, 6-speed manual. The one we are interested though, is the Veloster Turbo which has the same engine, but well... twin-scroll turbocharged. The prices for it start at $21,950 (6-speed stick) but what you get in return is a real treat – 201 hp, 195 lb-ft. of torque, 38 mpg of highway consumption, sporty looks, sporty notes and sporty equipment.
The 1.6L engine is swift in response, frugal and decently powerful thanks to it's twin-scroll turbo technology and direct injection. Couple it with the 6-Speed SHIFTRONIC Automatic transmission and you'll get the top of the line Veloster at the price of just $22, 950 - $1000 more than the manual.
The front grille is bigger, more pronounced and more hexagonal? LED's and fog lights make sure the front has a premium luxury feel. The side skirts and the rear diffuser integrated rear bumper result in a more road-hugging stance when compared to the base Veloster. The exhaust pipes are now two round ones instead of a single trapezoidal module and all the while, 18-inch wheels with chrome inserts complete the looks.
Inside, you get "Turbo" embroiled on the headrests. The gauge cluster is quite 21st century with it's two TFT displays between the dials, the pedals are from aluminum and the starter is a button. The only non-sporty thing are the standard heated seats – an unnecessary luxury which can only add weight.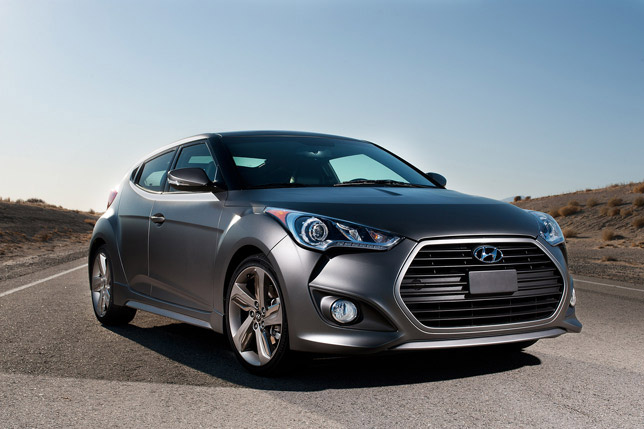 Source: Hyundai