2013 Mercedes E63 AMG powered by Hennessey - Dyno Testing [HD video]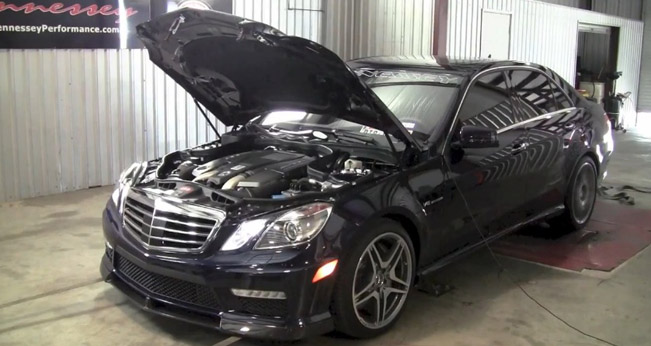 Hennessey Performance has released a video with their tuned 2013 Mercedes-Benz E63 AMG. The mighty saloon received full performance package caller HPE700 and as you may suggest, it produces 700HP.
The 2013 E63 AMG is powered by a newly developed 5.5 liter twin-turbocharged V8 originally producing 525HP (386 kW) and 557HP (410 kW) with the AMG Performance Package. The torque is 700Nm (516 lb-ft) and 800Nm (590 lb-ft), respectively.
However, the HPE700 E63 AMG has 700HP (522 kW) at 5200RPM and whopping 1083Nm (800 lb-ft) of torque at just 3800RPM. The interesting thing is that power is achieved with 93 octane fuel, which is great.
The HPE700 performance package includes a new air induction system, a full engine management system, which is carefully calibrated.
There are also other nice upgrades like sets of big alloy wheels fitted with performance tires, carbon fiber trim accessories and sport suspensions.
The tuning program is offered with a 3-year or 36,000 mile limited warranty.
Source: HPEdesign via Youtube