2013 Nissan 370Z at 2012 Chicago Auto Show
We spoke yesterday about Nissan's planned presence on the 2012 Chicago Auto Show and how every model will offer a special edition or a revision. Well, the Nissan 370Z wont be an exception. It will be an even leaner, meaner machine designed to carve out the tarmac. With several updates, the 2013 model intends to keep it fresh and hip and hopefully it will be out for sale in June this year. Again, three configurations will be available - Coupe, Roadster and NISMO Z
"Since the original 1970 Z® was first introduced our goal has always been to keep the design moving forward. The changes for 2013, though subtle, go a long way in enhancing its dynamic appearance inside and out," said Al Castignetti, vice president and general manager, Nissan Division, Nissan North America, Inc.
The updates for the new model year are as follows:
Refreshed front fascia with vertical LED daytime running lights

(does not apply to Nismo configurations)
Red reflector added to rear fascia (replaces previous black center cover,

does not apply to Nismo configurations

)
Revised 19-inch aluminum-alloy wheels (Sport Package equipped models)
New 18-inch wheels for 370Z Coupe
Red-finished brake calipers (Sport Package equipped models)
Dark-finish fuel gauge trim
Euro-tuned shock absorbers (Sport Package equipped models)
Two new exterior colors – Magma Red and Midnight Blue (Midnight Blue does not apply to Nismo configurations)
The 2013 370Z Coupe and 370Z Coupe Touring will both be sold with the same 2012 engine – a 332-horsepower 3.7-liter DOHC V6 and customers will have a choice between a six-speed manual gearbox or a seven-speed automatic. The same goes for the 370Z Roadster and Roadster Touring with the exception that the former won't offer a six-speed manual.
Regardless, the Nismo Z remains the top of the range, motoring nirvana that comes with premium super-light, dark-finish 19-inch wheels and an exclusive Bose® Premium Audio Package with two additional speakers and two subwoofers. A more technical oriented innovation comes from the GT-R style high-rigidity brake hoses and performance brake fluid. The exterior, as well as the interior, is sporty and aggressive while the suspension is tuned to match the looks. Power is up to 350 horsepower thanks to the H-configured exhaust system design, muffler tuning and optimized ECM (Engine Computer Module) control. Only one gearbox seems appropriate for the Nismo Z - a close-ratio 6-speed manual with SynchroRev Match® as standard, which allows rev-matched heel-toe-like downshifting.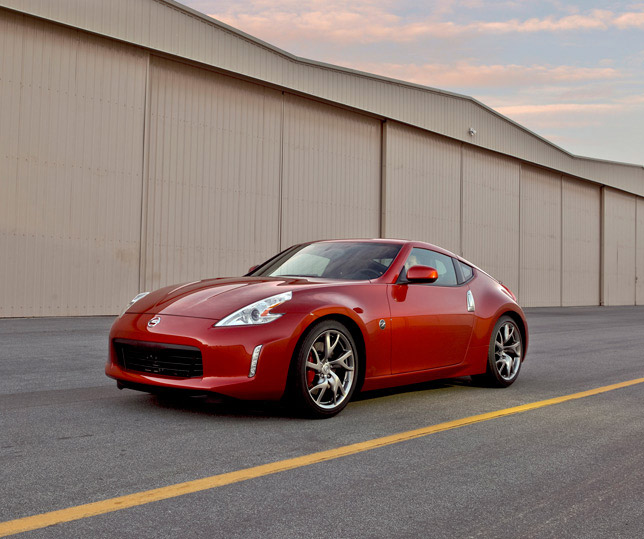 Soruce: Nissan