2013 Volkswagen Beetle Cabriolet - The new Fashion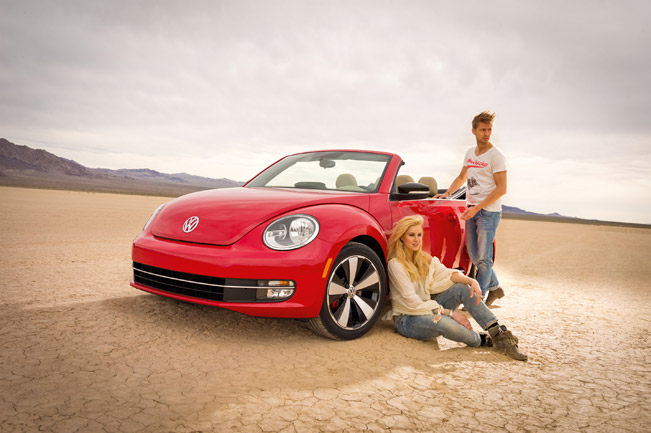 Volkswagen has announced the new 2013 Beetle Cabriolet, which will make its official debut in the end of November at the L.A. Motor Show.
The new model also incorporates design criteria of the modern Volkswagen line-up: the air inlet under the bumper, the flat contour of the hood's bottom edge and in particular the tail lights show the close family ties. In the new Beetle Convertible, Volkswagen brings together modern technology and the highest standards of quality with the emotional legacy of the car's 'forefather'. As on the nostalgic icon, the headlights still have their classic round shape.
Another feature contributing to the special charm of the new Beetle Convertible is the traditional soft top. When open it lies very flat, enabling good vision to the rear. Despite its compact construction, the top is very wide and elongated in shape. It opens and closes entirely automatically (on all models) within around ten seconds and up to a driving speed of 30mph.
Included with the Beetle Convertible is a standard soft-top cover, which, if desired, tucks the opened top neatly away. Surrounding chrome trim accentuates the borders between steel and fabric. As in other Beetle models, the compact instrument panel with extra large round instrument cluster and several nostalgic elements, such as the additional glove box, create a markedly different design inside the new Beetle Convertible as well.
With its spacious and comfortably designed interior the Beetle Convertible is a fully-fledged four-seat vehicle. The trunk enfolding up to 225 liters includes a fold-down symmetrically split rear bench seat which allows transporting bigger items event when the roof is closed.
To provide added safety in the event of a rollover accident, Volkswagen has developed an active rollover protection system. It consists of two extendable modules fitted inside the vehicle in concealed fashion behind the back of the rear bench seat. If the car were to roll over, the two rollover modules would be activated via the central airbag triggering unit. Along with the fixed A-pillars, they provide effective protection for the occupants of all four seats within a matter of milliseconds. Another extra safety feature is front and head-thorax-airbags that are standard equipment.
The engine range includes seven power units - a highly efficient 1.2-liter TSI with 105HP (77 kW), a BlueMotion Technology version of this gasoline engine will also be available. The other petrol variants are a 1.4-liter TSI and a 2.0-liter version, producing 160HP (118 kW) and 200HP (147 kW), respectively. There are two diesel variants – a 1.6-liter TDI with 105HP (77 kW) (including as a BMT version) and a 2.0-liter TDI with 140HP (103 kW).
The new 2013 Beetle Convertible is priced from €21,350, which is very good value for money.
Source: Volkswagen