2013 Volkswagen eco Up! - Price €12,950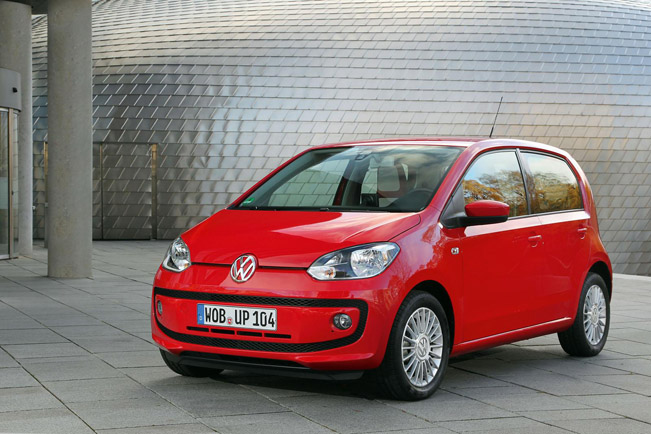 Volkswagen has announced the new 2013 eco Up!, which will join the range of small cars by the manufacturer. It is available as 3- or 5-door hatchback and the prices start from €12,950 in Germany and it will be eligible for rebates in excess of €1,000.
The new eco Up! is powered by a 1.0-liter three-cylinder engine that has been specially modified to run on natural gas. The engine has 68HP (50 kW) and 90Nm (66 lb-ft) of torque. 0-100 km/h in 16.3 seconds and a top speed of 164 km/h (102 mph). However, this car is not about performance, it is about savings and going cheap. Furthermore, the new eco Up! has an engine start/stop system, regenerative brakes and low-rolling resistance tires. This means an average 2.9 kg of natural gas/100 km and have CO2 emissions of 79 g/km.
Volkswagen estimates the cost of traveling 100 km (62 miles) in Germany would only be about €3 using natural gas. This is a perfect value for money and still you have air conditioning, navigation system and power windows. In other words, there is enough comfort in this small car and awesome fuel consumption.
The car has three fuel tanks: two for natural gas and one for petrol. The overall range is 600 km (373 miles) – 380km on CNG and around 220km on petrol.
Volkswagen also offers five natural gas powered vehicles in various classes: the Caddy 2.0 EcoFuel, the extended Caddy Maxi 2.0 EcoFuel (109 HP), the Touran 1.4 TSI EcoFuel, the Passat and Passat Estate 1.4 TSI EcoFuel (150 HP).
In the upcoming year, the new Golf will also debut in an EcoFuel version. In this vehicle, Volkswagen is offering one of the world's most versatile natural gas vehicle programmes.
Source: Volkswagen