Volkswagen Up! Becomes Sportier in Germany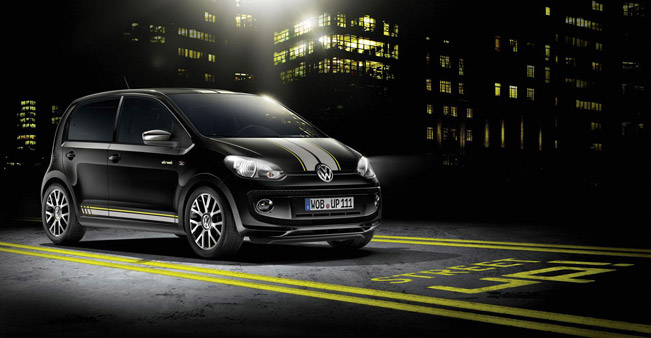 Two years ago Volkswagen introduced a super mini car called with the strange name up! It became a big hit around the globe and it is common view on the city streets, thanks to its fuel-efficient characteristics, great price and convenient dimensions. Now, the company is announcing a derivative of the model, which features unique styling inside and out, and it is called street up! special edition.
It was created with the intent to appeal to the sports-minded customers. As you can see VW's street up! has catchy black exterior with contrasting mirror caps and special white and yellow stripes on the hood, roof, doors and side panels. There is also a "Street" lettering on the doors.
Despite the fact that the car is based on the up! 5 door version, it features a sport-tuned suspension, chrome fog light surrounds and runs on 16-inch alloy wheels. Other design cues feature chrome mirror caps and fog lights frames.
The same sporty treatment can be seen also inside, where there the upholstery features yellow contrast stitching. "Black Style" design package is adds black headliner and darkened side windows. At last, the "Up!" lettering can be seen on the seats and door sills. The car also features air conditioning, an RCD 215 radio and a unique gear knob.
Volkswagen Street Up can be powered by any of the engines available in the Up lineup. The pricing of the car begins at €13,575 and it is available only in Germany.
Source: Volkswagen