2013 Volkswagen Polo - Better Value for Money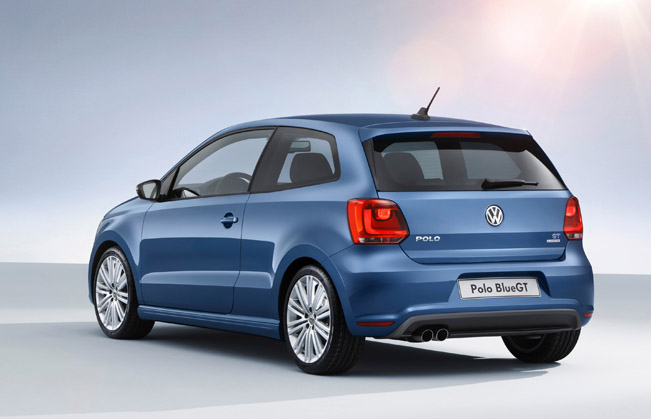 Volkswagen now offers extra standard equipment on all Polo models for almost the same price. The manufacturer has also introduced the stylish yet economical Polo R-Line Style.
Some of the new extras for Polo BlueMotion and Polo Match include rear parking sensors, cruise control and an alarm with very small charge. Otherwise, the additional equipment has a value of £510, but the price for these models is increased by just £135 starting at £11,910 for the 1.2 litre 60HP 3-door model.
The SEL, R-Line, BlueGT and GTI models all now come with cruise control and rear parking sensors, without any increase in price.
The new Polo R-Line Style is also added to the range. It boasts the R-Line Style look, but with equipment and engines that make it even more accessible and prices starting from £11,740.
The R-Line body kit include a new front and rear bumpers, a bespoke radiator grille, and side skirts – body-coloured door handles and door mirrors, 16" Rivazza alloy wheels and a Bluetooth touch phone kit.
Check out the 2013 Volkswagen Polo del line-up and pricing, below!
| | | | | |
| --- | --- | --- | --- | --- |
| Trim level | Engine derivative | CO2, g/km | Combined mpg | Price, £ RRP OTR |
| S | 1.2-litre 60 PS 5spd 3dr | 128 | 51.4 | 10,490 |
| S | 1.2-litre 60 PS 5spd 5dr | 128 | 51.4 | 11,235 |
| S | 1.2-litre 70 PS 5spd 3dr | 128 | 51.4 | 11,290 |
| S | 1.2-litre 70 PS 5spd 5dr | 128 | 51.4 | 11,910 |
| S A/C | 1.2-litre 60 PS 5spd 3dr | 128 | 51.4 | 11,330 |
| S A/C | 1.2-litre 60 PS 5spd 5dr | 128 | 51.4 | 11,950 |
| S A/C | 1.2-litre 70 PS 5spd 3dr | 128 | 51.4 | 12,005 |
| S A/C | 1.2-litre 70 PS 5spd 5dr | 128 | 51.4 | 12,625 |
| | | | | |
| R-Line Style | 1.2-litre 60 PS 5spd 3dr | 128 | 51.4 | 11,740 |
| R-Line Style | 1.2-litre 60 PS 5spd 5dr | 128 | 51.4 | 12,360 |
| R-Line Style | 1.2-litre 70 PS 5spd 3dr | 128 | 51.4 | 12,615 |
| R-Line Style | 1.2-litre 70 PS 5spd 5dr | 128 | 51.4 | 13,235 |
| R-Line Style A/C | 1.2-litre 60 PS 5spd 3dr | 128 | 51.4 | 12,455 |
| R-Line Style A/C | 1.2-litre 60 PS 5spd 5dr | 128 | 51.4 | 13,075 |
| R-Line Style A/C | 1.2-litre 70 PS 5spd 3dr | 128 | 51.4 | 13,330 |
| R-Line Style A/C | 1.2-litre 70 PS 5spd 5dr | 128 | 51.4 | 13,950 |
| | | | | |
| Match Edition | 1.2-litre 60 PS 5spd 3dr | 128 | 51.4 | 11,910 |
| Match Edition | 1.2-litre 60 PS 5spd 5dr | 128 | 51.4 | 12,530 |
| Match Edition | 1.2-litre 70 PS 5 spd 3 dr | 128 | 51.4 | 12,785 |
| Match Edition | 1.2-litre 70 PS 5 spd 5dr | 128 | 51.4 | 13,405 |
| Match Edition | 1.4-litre 85 PS 5spd 3dr | 139 | 47.9 | 13,225 |
| Match Edition | 1.4-litre 85 PS 5spd 5dr | 139 | 47.9 | 13,845 |
| Match Edition | 1.4-litre 85 PS DSG 3dr | 134 | 48.7 | 14,485 |
| Match Edition | 1.4-litre 85 PS DSG 5dr | 134 | 48.7 | 15,105 |
| Match Edition | 1.2-litre TDI 75 PS 5spd 3dr | 102 | 72.4 | 14,130 |
| Match Edition | 1.2-litre TDI 75 PS 5spd 5dr | 102 | 72.4 | 14,750 |
| | | | | |
| R-Line | 1.2-litre TSI 105 PS 6spd 3dr | 124 | 53.3 | 15,295 |
| R-Line | 1.2-litre TSI 105 PS 6spd 5dr | 124 | 53.3 | 15,915 |
| | | | | |
| SEL | 1.6-litre TDI 90 PS 5spd 3dr | 112 | 65.7 | 16,120 |
| SEL | 1.6-litre TDI 90 PS 5spd 5dr | 112 | 65.7 | 16,740 |
| SEL | 1.2-litre TSI 105 PS 6spd 3dr | 124 | 53.3 | 15,675 |
| SEL | 1.2-litre TSI 105 PS 6spd 5dr | 124 | 53.3 | 16,295 |
| | | | | |
| BlueMotion | 1.2-litre TDI 75 PS 5spd 3dr | 91 | 80.7 | 15,500 |
| BlueMotion | 1.2-litre TDI 75 PS 5spd 5dr | 91 | 80.7 | 16,120 |
| | | | | |
| BlueGT | 1.4-litre TSI ACT 140 PS 6spd 3dr | 107 | 61.4 | 17,400 |
| BlueGT | 1.4-litre TSI ACT 140 PS 6spd 5dr | 107 | 61.4 | 18,020 |
| BlueGT | 1.4-litre TSI 140 PS DSG 3dr | 107 | 61.4 | 18,745 |
| BlueGT | 1.4-litre TSI 140PS TSI DSG 5dr | 107 | 61.4 | 19,365 |
| | | | | |
| GTI | 1.4-litre TSI 180 PS DSG 3dr | 139 | 47.9 | 19,435 |
| GTI | 1.4-litre TSI 180 PS DSG 5dr | 139 | 47.9 | 20,055 |
Source: Volkswagen