2014 Audi A3 Cabriolet - Price £25,790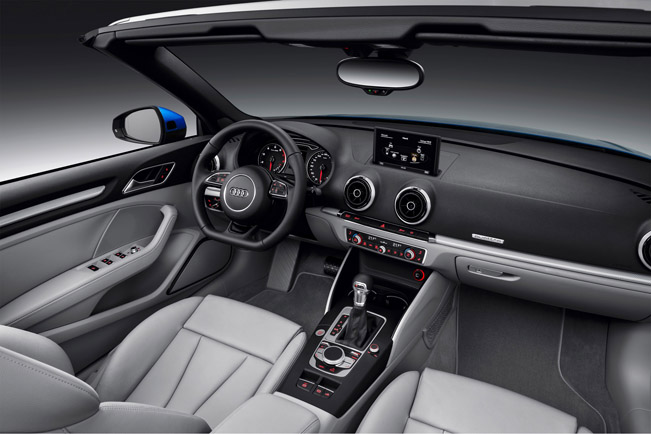 Audi has published the price list of the all-new 2014 A3 Cabriolet, which is expected to hit the market in April, next year.
The A3 Cabriolet was introduced at the 2013 IAA in Frankfurt. The starting price is £25,790 for the 1.4 liter TFSI SE model and goes up to £30,270 for the top-of-range 1.8 liter TFSI and Sport trim.
The engine range includes the two TFSI engines which generate 140HP (103 kW) and 180HP (132 kW) from 1.4 and 1.8 litres of engine displacement, as well as the 2.0 TDI which produces 150HP (110 kW). The other engines offered range from the 1.6 TDI with 110HP (80 kW) to the 2.0 TFSI with 300HP (220 kW). All of the powertrains, use direct injection and turbocharging and are backed up by a start-stop-system.
The soft top can be raised or lowered in less than 18 seconds at speeds of up to 50 km/h (31 mph) and when it's folded the cargo capacity stands at 275 liters.
The all-new Audi A3 Cabriolet – UK OTR Pricing
| | | | |
| --- | --- | --- | --- |
| Engine | Trim | PS | OTR |
| 1.4 TFSI (CoD) | SE | 140 | £25,790 |
| 1.4 TFSI (CoD) | Sport | 140 | £27,015 |
| 1.4 TFSI (CoD) | S line | 140 | £29,165 |
| 1.8 TFSI | Sport | 180 | £30,270 |
| 1.8 TFSI | S line | 180 | £32,420 |
| 2.0 TDI | SE | 150 | £27,240 |
| 2.0 TDI | Sport | 150 | £28,465 |
| 2.0 TDI | S line | 150 | £30,615 |
Source: Audi