2014 BMW 2-Series M235i xDrive Coupe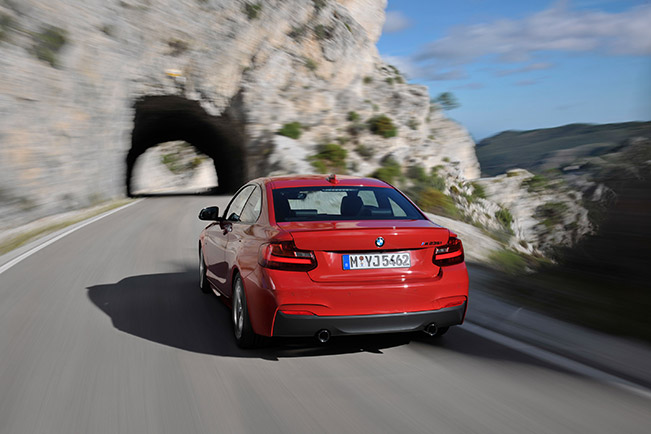 Beware Mitsubishi Evo and Subaru STI fans! BMW is going to offer 2-Series M235i xDrive Coupe. The sports coupe with the world's most intelligent all-wheel drive system will be a very tough competitor considering its weight distribution and extremely powerful engine.
2014 BMW 2-Series M235i xDrive Coupe will hit the market this summer. It is powered by the well-known 3.0 liter TwinPower Turbo six-cylinder engine – 326HP (240 kW) and 450Nm (332 lb-ft) of torque. The engine is connected to an 8-speed Steptronic sport transmission. 0-100 km/h in 4.6 seconds and a top speed of 250 km/h (155 mph). For comparison, the RWD version of the model accelerates 0-100 km/h in 5.0 seconds with 6-speed manual and 4.8 seconds with 8-speed automatic.
Of course, there are two disadvantages – the curb weight is increased to 1,525 kg (3,362 lbs) and the combined fuel efficiency is 7.8 liters / 100 km (30.1 mpg US or 36.2 mpg UK).
The dimensions of BMW 2-Series Coupe are: 4,432 mm length; 1,774 mm width; height 1,418 mm and 2,690 mm wheelbase. The boot space is 390 litres, which is 20 litres more than 1-Series Coupe. The BMW 2-Series Coupe also has better aerodynamics than both the BMW 1-Series and its predecessor, as reflected in a Cd of 0.29 for the BMW 220i Coupe.
Source: BMW