2014 BMW 4-Series Coupe - US Price $41,425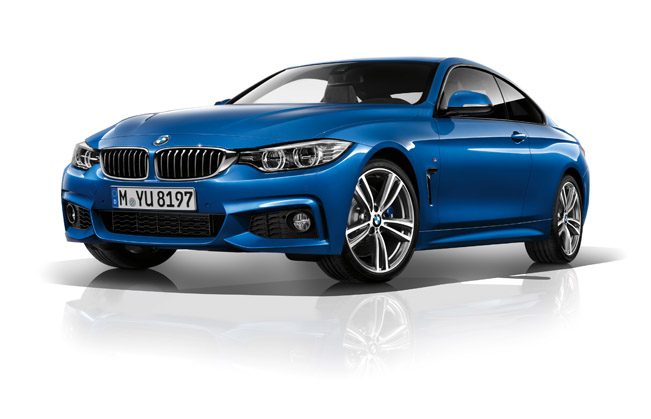 BMW has officially announced the all-new 2014 4-Series Coupe.
The "4" in its title headlines this new product line for the Coupe and emphasizes not only its stand-out design, but that any way you look at it, the new 4 Series Coupe represents something more than its BMW 3 Series cousins.
The 4-Series Coupe is visibly larger in width and wheelbase than the outgoing BMW 3-Series Coupe (E92), and its stretched silhouette sits considerably lower to the road. This, together with its BMW-typical short overhangs, long hood and set-back passenger compartment with flowing roofline, give the BMW 4 Series Coupe a visual balance. The car's striking front end – with its characteristic BMW design features, such as the double- kidney grille, four round headlights and a large air intake in the front apron – is keen to display its family ties with the BMW 3 Series. New elements of the BMW 4 Series Coupe are the Air Breathers, which are positioned rearwards of the front wheel arches to reduce drag. The Coupe's muscular wheel arches and wide track give an aggressive stance, with its prominent horizontal lines.
Overall, the 4-Series is 26mm longer, 43mm wider and 16 lower than the E92. The model also rides on a 50mm longer wheelbase and weighs 45 kg (99 lb) less.
The engine range includes a 428i – a 2.0 liter turbocharged petrol with 245HP (180 kW) and 350Nm (259 lb-ft) of torque. 0-100 km/h in 5.7 seconds and a top speed of 250 km/h (155 mph). There is also a 435i – a 3.0 liter turbocharged petrol with 300HP (224 kW) and 406Nm (300 lb-ft) of torque. 0-100 km/h in 5.3 seocnds and a top speed of 250 km/h (155 mph).
The styling packages include:
A Sport package with gloss black accents, a sport-tuned suspension and 18-inch twin-spoke alloy wheels
A Luxury package with chrome accents, leather seats and high-gloss wood trim
An M Sport package with an aerodynamic body kit, shadow line trim and 18-inch M-style wheels. There's also a sports suspension, high-performance brakes and M-spec interior.
The 428i will be priced from $41,425, while the 435i will retail for $46,925.
Source: BMW