2014 BMW F80 M3 Sedan vs E30 M3 DTM - Hockenheim [video]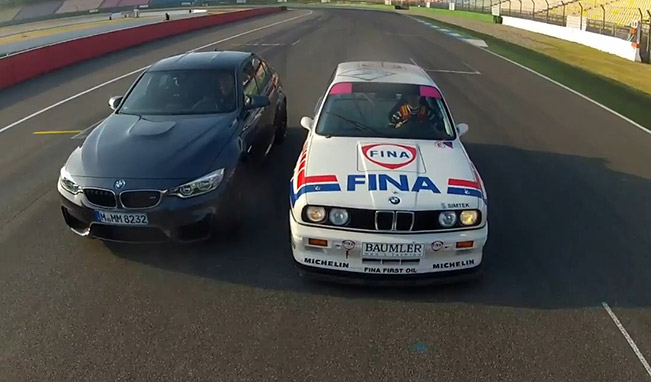 Sport Autohas published a nice video with an epic battle between the latest 2014 BMW F80 M3 Sedan and the classic E30 M3 DTM. There is a huge 22-year gap between the production dates of the two models, but the old racing car is faster than F80 M3. 2014 BMW F80 M3 Sedan closed a lap around Hockenheim in 1 minute and 13.1 seconds, while the E30 M3 DTM needed just 1 minute and 9 seconds.
2014 BMW M3 Sedan is powered by a 3.0 liter TwinPower Turbo Inline six-cylinder – 431HP (317 kW) at 5,500RPM and 550Nm (406 lb-ft) at 1,850RPM. The engine is mated to a 6-speed manual gearbox as standard. 0-100 km/h in 4.3 seconds and a top speed of 250 km/h (155 mph) or an optional 280 km/h (174 mph). The acceleration is even better, when fitted with the optional 7-speed M DCT – 4.1 seconds to 100 km/h. The new M3 is able to cover 100 km with just 8.8 liters of fuel in the combined cycle with the manual transmission and 8.3 liter with the DCT.
BMW E30 M3 DTM was driven by the former race pilot Johnny Cecotto, while the M3 F80 was driven by Sport Auto's journalist - Christian Gebhardt. Alberto "Johnny" Cecotto is one of the few drivers who managed to compete in motorcycling, Formula 1, DTM, Formula Two, BTCC and Le Mans. The multi-talented pilot is currently supporting the racing career of his son – Johny Cecotto Jr.
Enjoy!
Source: Sportauto