2014 Mercedes E250 BlueTEC - US Price $51,400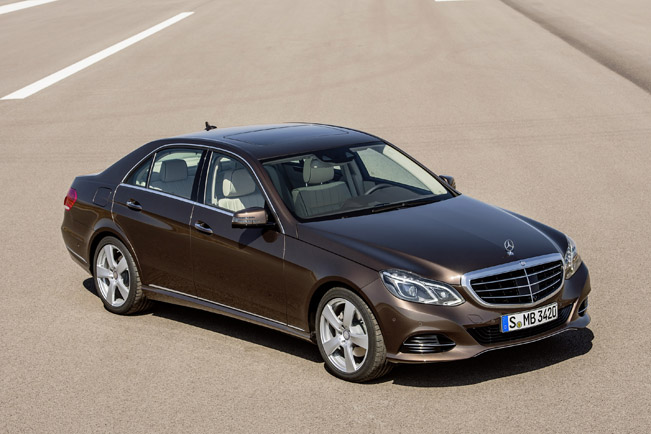 Mercedes-Benz US has announced the price list of the 2014 E-Class Facelift. The entry-level E250 BlueTEC is priced from $51,400 and the top-of-range E63 AMG S-Model 4MATIC wagon will cost $102,370.
The newest Mercedes-Benz E-Class - the 2014 E250 BlueTEC sedan - has achieved an impressive estimated EPA rating of 45 mpg US on the highway and 28 mpg US around town. The first diesel E-Class to be available with 4MATIC achieves best-in-class fuel efficiency for a midsize luxury sedan and for the entire industry in the same size range. When equipped with optional 4MATIC all-wheel drive, its fuel mileage numbers are still an impressive 42 mpg US highway and 27 mpg US in the city. No other diesel sedan offers a better EPA fuel economy highway estimate.
The E250 BlueTEC has a 2.1-liter four-cylinder turbodiesel engine with 195HP (145 kW) and 500Nm (369 lb-ft) of torque. It is connected to a 7-speed automatic transmission.
Mercedes-Benz focuses on real-world safety with the goal of accident-free driving, and the new E-Class offers more than 30 standard and optional active and passive safety systems under the Mercedes-Benz Intelligent Drive comfort and safety portfolio.
The new E250 BlueTEC sedan is the price-leader in the E-Class family, priced competitively at $51,400 while offering a clean diesel powertrain. Please find below the following E-Class portfolio and overall pricing, which excludes the 2014MY destination & delivery price of $925:
E250 BlueTEC sedan (rear-wheel drive) - $51,400
E350 sedan (rear-wheel drive) - $51,900
E350 Coupe (rear-wheel drive) - $52,200
E250 BlueTEC 4MATIC sedan - $53,900
E350 4MATIC sedan - $54,400
E350 4MATIC Coupe - $54,700
E400 Hybrid sedan (rear-wheel drive) - $56,700
E350 4MATIC wagon - $58,600
E550 Coupe (rear-wheel drive) - $59,000
E350 Cabriolet (rear-wheel drive) - $60,200
E550 4MATIC sedan - $61,400
E550 Cabriolet (rear-wheel drive) - $67,300
E63 AMG 4MATIC sedan - $92,770
E63 AMG S-Model 4MATIC sedan - $99,770
E63 AMG S-Model 4MATIC wagon - $102,370
Source: Mercedes-Benz