2014 Peugeot RCZ R - Price £31,995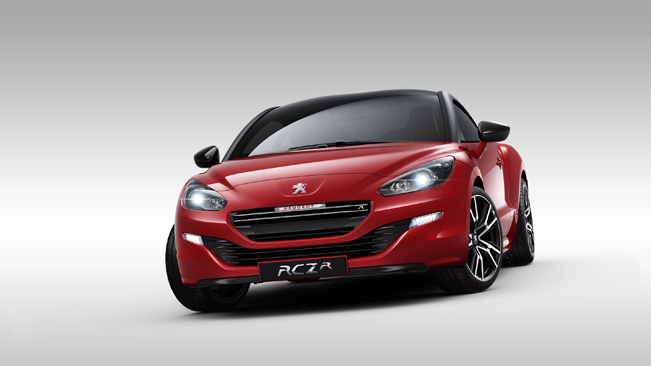 Peugeot has announced the all-new 2014 RCZ R, which will be the most powerful road-going car the brand, has ever sold. It is inspired by the Peugeot RCZ Racing Cup track car, so the road model is 10mm lower to the ground and has a super-powerful engine.
2014 Peugeot RCZ R is powered by a 1.6 liter THP turbocharged petrol with 270HP (200 kW) at 5,500RPM and 330Nm (244 lb-ft) at 1,900RPM. The engine is connected to a 6-speed manual gearbox. The codename of the engine is EP6CDTR and it features reinforced block and new forged pistons with a compression ratio of 9.2:1 developed by Mahle Motorsport. Thanks to these modifications, the engine has almost 170HP per liter specific power. It also meets the stringent Euro 6 emissions standard.
The performance is sensational – 0-100 km/h in 5.9 seconds and a top speed of 250 km/h (155 mph). Still it is able to return 44.8 mpg UK with CO2 emissions of only 145g/km – on combined drive cycle.
A Torsen differential has been added to the car's specification to provide additional grip. The front and rear track have been widened to boost traction.
Other upgrades include revised dampers settings, increased stiffness in the springs and anti-roll bar. Aerodynamic efficiency and high-speed stability have been improved, thanks to a new fixed boot spoiler which aids rear downforce.
The RCZ R rides on unique two-tone 19" alloy wheels fitted with Goodyear Eagle F1 Asymmetric 235/40 R19 tyres for outstanding road-holding.
2014 Peugeot RCZ R is priced from £31,995 and deliveries will start in the UK from 2nd January.
Source: Peugeot