Peugeot RCZ R Concept Makes International Debut At Goodwood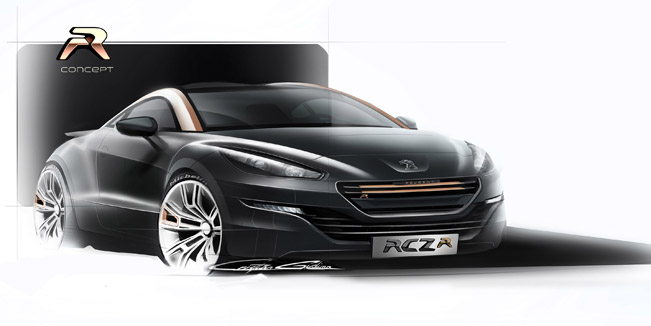 Peugeot RCZ R Concept is going to make its international debut at the Goodwood Festival of Speed on 12th of July. The car was previewed at this year's Geneva Motor Show and in Paris in a matt black and copper livery that heralds the spiritual stance of a road-going RCZ R.
As a matter of fact, the RCZ R is the peak of the evolution of the original RCZ Concept, the production version of which was three-time class-winning Nürburgring race car. The latter was the inspiration behind the road-going RCZ R.
RCZ R uses 1.6-litre THP unit capable of developing 260 hp (191 kW). This number makes the vehicle the most powerful production Peugeot in brand's history. In addition, its efficiency will be a benchmark with power/capacity of over 160hp/litre and with CO2 emissions at just 155g/km.
The concept also offers race-bred driving experience thanks to its bespoke suspension set-up, a specific and distinctive wheel design, combined with a Torsen®limited slip differential and masterful torque.
At Goodwood two red RCZ Rs will be showcased for the first time in public. As a matter of fact, this first look at the new Peugeot concept happens ahead of its official launch at the end of the year.
The French brand always aims at the production of vehicles which are compact, durable and have highly-efficient engines. This design strategy always results in the production of successful cars and competition vehicles, and culminates in brand's most powerful road car – the Peugeot RCZ R Concept.
Source: Peugeot